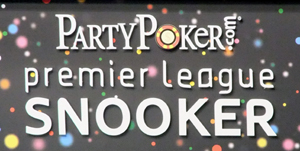 Further to my previous post discussing how Stephen Lee's suspension might affect the Premier League, Matchroom Sport have now confirmed that next week's meeting in Penzance has been cancelled, while Lee's results have all now been removed from the Group B table…
The approach taken is that as I had expected and in the circumstances, the only thing that the organisers could have done.
The move is bad news for Peter Ebdon whose 5-1 victory against Lee earlier in the event had been his only win to date, while Judd Trump and John Higgins have also both lost the benefit of their victories over the reigning PTC champion. For Ebdon at least, the blow is softened somewhat by the prospect of a last 32 bye against Lee at the upcoming International Championship.
Incidentally, you can read an excellent analysis of the Stephen Lee situation here at Snookerbacker's blog.
Official Statement
Matchroom Sport would like to announce the cancellation of the PartyPoker.com Premier League Snooker fixture which was due to take place at the Penzance Leisure Centre on Thursday 18th October.
The evening was to feature two matches in the ongoing Premier League event but due to the recent suspension of Stephen Lee by the WPBSA, his match against Mark Allen will not now take place.
With just one match to be played – Neil Robertson v Stuart Bingham – it was felt that this did not represent sufficient value for money for the people of Penzance as well as the viewers watching on Sky Sports at home.
This match will now be rescheduled for the Guildford Spectrum on Thursday 25th October.
All ticket holders can now seek full refunds from their point of purchase.
Matchroom Sport will use their best endeavours to make sure that the Premier League returns to Penzance in 2013.
All Group B matches involving Stephen Lee have been declared void, effectively making it now a four player group instead of five. The revised table and remaining fixtures now look like this:
| | | | | | | | |
| --- | --- | --- | --- | --- | --- | --- | --- |
| Name | Played | Won | Drawn | Lost | Frames Won | Frames Lost | Pts |
| Mark Allen | 2 | 1 | 0 | 1 | 6 | 6 | 2 |
| Judd Trump | 1 | 1 | 0 | 0 | 4 | 2 | 2 |
| John Higgins | 1 | 1 | 0 | 0 | 4 | 2 | 2 |
| Peter Ebdon | 2 | 0 | 0 | 2 | 3 | 9 | 0 |
| | | | | | | | |
Thursday 25th Oct     6:00pm            Guildford Spectrum
                                                            Stuart Bingham v Mark Selby
                                                            Judd Trump v John Higgins
                                                            Stuart Bingham v Neil Robertson
Thursday 8th Nov      7:30pm            The Dome, Doncaster
                                                            Mark Selby v Shaun Murphy  
                                                            Judd Trump v Mark Allen
Thursday 15th Nov    7:30pm            Spennymoor LC, Durham
                                                            Neil Robertson v Ding Junhui 
                                                            John Higgins v Peter Ebdon