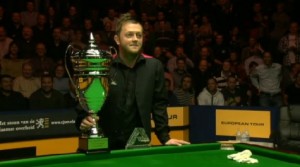 He might not be the biggest fan of snooker's PTC tournaments, but Northern Ireland's Mark Allen produced a terrific display tonight to defeat Mark Selby 4-1 and capture the 2012 Acuerate Antwerp Open…
Click here to view the results from Antwerp at snookerorg
Click here to view the latest projected seedings
Click here to view the latest PTC Order of Merit
Trailing Leicester's Ben Woollaston 3-1 and requiring a couple of snookers in his quarter-final earlier today, Mark Allen probably did not expect to be lifting the trophy this evening, but just a few hours on that is exactly what he has done, following a 4-1 victory against another Leicester man in Mark Selby.
And what a performance it was from Allen, as the Northern Irishman opened with breaks of 117, 106 and 102. While Selby missed a couple of balls, notably a brown in the second frame, Allen was clinical and gave his opponent no second chances.
As you would expect, Selby did not give in, taking the fourth frame to avoid being whitewashed, before fighting back from 53-0 behind in the next to threaten a comeback. It was not to be however, Allen soon sealing a well-earned 4-1 victory to capture his first PTC title, and second trophy of the year in all.
As Mark told the crowd afterwards, he is not a lover of the PTC events in general, but as was the case last year, the Belgian crowd were fantastic tonight and they, with the fact that he was playing the world number one, gave him all the motivation to win that he needed.
I am sure that Mark's attention will be on the bigger tournaments to come this season such as the UK Championship in December, but there it is never a bad thing to win a tournament and it will give him a welcome confidence boost heading into the next phase of the season.
For Mark Selby meanwhile, it was another good tournament which has seen him marginally extend his lead over Judd Trump and John Higgins in the latest projected seedings, his performance against Ali Carter in the semi-finals proving particularly impressive. Notably from Carter's perspective however, his run to the last four helped him up to 15th place in the latest projected seedings list, all but securing his place at the Masters in January. More on that to follow on Tuesday.
Elsewhere today, the main story was of Welsh amateur Andrew Pagett, who reached the semi-finals with victories against Thepchaiya Un-Nooh and Neil Robertson, the latter following a remarkable deciding frame, to leave himself well-placed to return to the tour next season via the PTC Order of Merit.
The day though belonged to Mark Allen, who sporting his wristband supporting young Oscar Knox, reaffirmed his status as a player more than capable of winning tournaments, and who will be a contender for many years to come. A word too for the Antwerp crowd, who just like last year supported the event well all weekend and will surely be rewarded with an even bigger tournament in years to come…