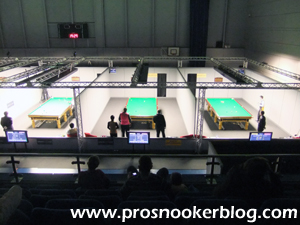 As today sees the tables re-clothed at the English Institute for Sport In Sheffield ahead of the final qualifying round in Sheffield, I have a much-needed night off from the daily pilgrimage to the Badminton Halls which gives me a chance to round up the action so far from the opening three rounds of the 2013 World Championship qualifiers…
So where to start? By working backwards, and beginning with last night's thriller between Alfie Burden and Dave Harold, eventually won on the colours by Alfie in a close-fought decider.
Resuming the match with a 5-3 lead following the morning session, Dave made short work of the opening two frames of the evening to draw level, before then winning a tight 11th frame following a missed pink to right-centre from Alfie, with two good pots to lead 6-5. A break of 78 followed as he completed a four-frame winning streak prior to the mid-session interval, Alfie having done little wrong to find himself two behind.
To his credit, Burden responded brilliantly, breaks of 74 and 91 putting him level at 7-7, before he added the next two to lead 9-7. The 16th frame in particular was full of drama, Harold battling back to force a re-spotted black, only for the opening shot to leave the black over the corner pocket for a relieved Burden.
The roles though were soon to be reversed, Alfie dramatically missing match-ball pink along the bottom cushion to allow Dave to close to 8-9, before he then drew level, largely thanks to an excellent break of 43, made largely using the brown from its spot with the higher-value colours tied up.
So to the decider and it was Dave who had the first good chance, a break of 31 seeing him lead 52-29, before a missed red to left-centre allowed Alfie back to the table. There was though to be a final twist, Alfie laying an excellent snooker, from which he would eventually earn a match-clinching chance, which he would take with both hands.
You can watch my video of the decider here.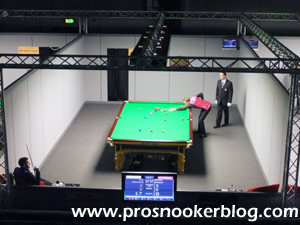 You can watch the decider here and you only need to see his reaction at the end to see what it meant to him, seeing him through to the final qualifying round for a second successive year. Awaiting him will be Dominic Dale, the Welshman hoping to make it back to the Crucible for a third year in a row himself.
Elsewhere on Thursday night there were a number of other deciders, including a fine win for Sam Baird, who won the final three frames from 9-7 down to defeat Rory McLeod. Though he rode his luck in the decider as he missed the blue when going into the bunch of reds, leaving nothing, otherwise he played an excellent decider, floating in three long balls on his way to the final round in front of his delighted supporters in the crowd.
In fact it was Sam's second 10-9 win in as many matches, as he came through his previous match against Peter Lines by the same scoreline. It could have been very different however, but for a cruel miscue for Lines on the black, when in and with a chance to clear.
Also coming through in deciders were Rod Lawler and Liam Highfield, Rod surviving a real scare by Scotland's Anthony McGill, who fought well from 8-3 down before eventually losing out, while Liam recovered from 8-5 down to record a career-best win against On Q stablemate Jamie Jones. A word though for Jamie who very graciously patted Liam on the back as they left their cubicle, hopefully a break from the baize after a difficult season will do him good.
While that win was a special for Liam, perhaps even more significant was his victory the previous night against Barry Pinches, also won in a decider having survived a Pinches fightback from 7-4 down.
It was not a decider, but the match between Jamie Burnett and Yu Delu was also not short on drama, with a series of frames during the closing stages coming down to the colours. The match was all but decided in frames 14 and 15, as Burnett potted frame ball in each, only to go in-off on each pot and lose both frames as a result.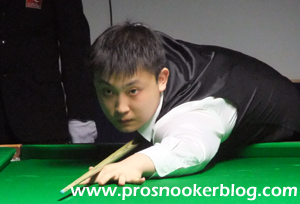 During the course of the past week, one of, if not the biggest story has been the run of twice former Crucible semi-finalist Joe Swail, who having qualified for the main draw proper from the amateur rounds, defeated Pankaj Advani and local favourite Adam Duffy to reach the third qualifying round. Though he lost out 10-7 to Mark Joyce last night, hopefully we will see the popular Northern Irishman back on the main circuit next season, having qualified via the PTC Order of Merit.
Another story is the run of six-time finalist Jimmy White, who with wins against Tian Pengfei and Xiao Guodong is now through to the final qualifying round and within a match of making it back to the Crucible for the first time in seven years. Standing in his way will be Robert Milkins, who will rightly enter the match as favourite, but despite poor performances from Jimmy's opponents so far, the Whirlwind has looked as impressive as he has all season and will be desperate to make it.
While Jimmy remains in the tournament however, another legend in the form of Steve Davis was sent home by Kurt Maflin, who produced a brilliant performance to advance into the final round. Having already defeated Craig Steadman with a barrage of breaks in the previous round, Kurt now faces another former world champion in the form of Peter Ebdon, for a place at the Crucible.
Other stories this week include the run of Alan McManus, who won a gruelling match with Aditya Mehta in yet another decider, before then defeating Nigel Bond, while Matt Selt won against Thanawat Thirapongpaiboon, a brilliant break of 83 when trailing 5-6 helping to turn the tide in his favour.
So now we are down to 32, who will do battle over the following two days for the right to play at the Crucible in little over a week's time.
As was the case last year, I am delighted to say that I will be backstage during the weekend to record interviews with the players who qualify, so feel free to suggest any questions that you would like me to put to the players.
For all the drama we have seen so far, you have seen nothing yet…