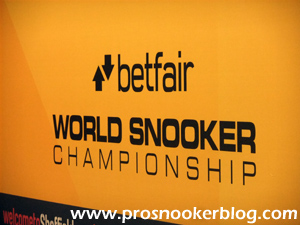 Day Two from the Crucible as today will see the conclusion of four more first-round matches, including those involving Shaun Murphy, Barry Hawkins and Ricky Walden…
10:06: Up bright and early today for day two of the Betfair World Championship as Ricky Walden and Michael Holt play their first round match to a finish in the morning session, while former champions Graeme Dott and Peter Ebdon also get their latest contest underway .
As I mentioned in yesterday's blog, I was very impressed with the way that Ricky played yesterday, he barely missed a pot and looked as comfortable in the arena as I have seen him, since his 2009 Crucible début against Mark Selby. A two-time ranking event winner overseas, he is more than capable of making a run at this tournament and could well give Neil Robertson a fright if the two are to meet in the last 16 stage this week.
Listening to the comments of those both at the venue and at home, the early indications are that playing conditions seem to be better on table one than table two. Certainly of the matches I watched (all of which were on table two), there were a few strange bounces, particularly affecting Barry Hawkins in the afternoon session.
10:32: Little more than half an hour gone and Ricky, courtesy of a fluke on the blue is now just one frame away from a place in the last 16, while Graeme Dott has taken the opener over on table one. I plan to hang around here in the media room until the conclusion of the Walden match, before having a wander over to the Cue Zone for the first time in 2013.
11:12: Ricky wraps up a 10-1 victory against Michael Holt and both players are soon into the press area to give their assessment on the match, beginning with a frustrated, but calm Holt:
"That went well! Yeah obviously I missed a few early on, it is easy for it to go sour out there, it is the easiest place in the world for it to go wrong but you miss balls and it gets 3-0, 4-0."
"Overall, it's just more of the same for me really. I just don't go and play in the big arenas. That was extreme, but usually I just miss balls that I don't miss in the qualifiers and that's why I've never achieved anything."
"A lot has been made of my attitude over the years, but I think that it looks worse than it is. I am not a quitter, I've always tried. I do try hard. People are obviously looking for a reason why I have not done anything because it's obvious that I can play the game, so people think it's that."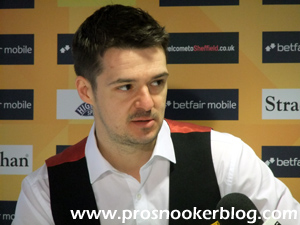 "But it's not actually that really, it's just the fact that I get too nervous, I'm 8-1 down there and I'm nervous. I'm still not feeling as relaxed as I would be at 4-4, 9-9 in a match to get here. I feel more comfortable at nine each to get here which is crazy, but that's just because I'm here and that's crazy because I want to go out there and I really look forward to it. It's not a front, I want to go out there. I just don't, and it's just so annoying."
"You can't miss important balls and get through here, the standard is good. I've won PTC events, I beat players, I can win, I'm not scared."
"What can you do, you've got to keep punching, keep trying and I will keep trying until I can't play any more. Look at my rankings I went to 40-odd at one point and got straight back in the top 32 because I'm that good, but I just go out there and don't play."
After a short delay, Michael was soon followed into the press area by Ricky, who was understandably content with how he had played:
"It was good, the match went my way early on, Michael let me off the hook in the second frame and I started well myself, settled down, got a few rubs in the game as well but all in all I feel as though I played the better stuff out there, I'm pleased with the scoreline."
"I'm scoring well, feeling quite clear out there, quite sharp, making the right decisions. It was always going to be a tough game but I got over that first hurdle early on and made it a little bit easier for myself later on."
"Whoever you play in that sort of situation in this sort of venue, you just need to get off to the best start you can and put the pressure on. I've been in that sort of situation myself where I have not got off to the best sort of start and it does come on top of you and you can't play your own game. So I applied the pressure early on and I knew that would give me the advantage in the game."
"It has been a good season, any time you can win a tournament is good and I won the first of the season, went through a bit of a flat spell mid-season and am looking to finish strongly here. I've got no targets, just to stay in the moment, stay present and just keep focusing on what I am doing."
Having been at Michael's press conference at the UK Championship in York last year, it was a similar story from him as he struggles to translate his qualifying performances into victories at the latter stages of snooker's biggest events.
That said, it should also be pointed out that Ricky did play very well, his 140 total clearance yesterday proving to be the highlight of an impressive first round performance. Quoted at 40/1 by tournament sponsors Betfair at the start of play, could he challenge for the title this week?
On the subject of odds, Ronnie O'Sullivan has been cut to the 4/1 tournament favourite, ahead of Neil Robertson, Mark Selby and Judd Trump with the sponsors.
Over on table one meanwhile, Graeme Dott takes a 3-1 lead into the mid-session interval against Peter Ebdon, a scoreline which reflects the match stats at this early stage. While such statistics rarely tell the whole story, with a pot success rate of just 77%, to Graeme's 90%, Peter will have to raise his game significantly if he is to extend his stay in the tournament beyond the first round.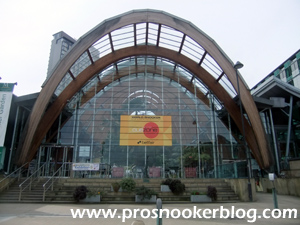 16:52: Following a wander around the Cue Zone and a catch-up with WPBSA Chairman Jason Ferguson at lunchtime, I headed on into the arena for the resumption of the match between Welsh duo Michael White and Mark Williams.
Having been reprimanded by marker Michaela Tabb for my failure to provide her with the Galaxy Minstrels promised to her at the qualifiers, I then settled down to see whether Michael would be able to complete a breakthrough victory against the man who has been the standard bearer in Welsh snooker for the past decade.
Williams immediately drew level at 5-5, floating in a long red and making a break of 90, before White survived a kick on the green during frame 11 to immediately regain the lead.
The biggest frame of the session would be the 11th however, the defining moment for me being an excellent plant potted by White, having lost position with his previous shot. The youngster could have been forgiven for losing his composure and letting the shot get the better of him, but once he had decided to take it on, he fully committed to it and never looked like missing.
Now 7-5 up, he added the next with a break of 72 to take a three frame lead into the mid-session interval.
Back in the media centre for the closing moments of the match in anticipation of the post-match press conferences, White looked to be showing his first signs of nerves as Williams snatched the next frame to close to 8-6 and keep his hopes alive.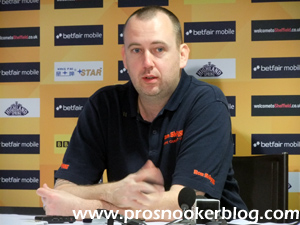 As he had to previous set-backs in the match however, Michael was to respond in brilliant fashion, closing out the biggest victory of his career with breaks of 90 and 96 to reach the last 16.
First into the media area was Williams, as the two-time champion was keen to praise the performance of his opponent, noting in particular that he did not play like a player making their first appearance at the Crucible Theatre.
In terms of his own form, I think he will be pleased to see the season come to an end, though as he said, it is only a matter of weeks until it all starts up again so he will not have too much time in order to gather his thoughts.
Mark was soon followed into the press area by Michael White, whose answers very much mirrored his performance. He was calm and fully in control of his emotions, just as he was on the table as he closed out the match.
He said that he was particularly impressed with the way that he handled setbacks in the match, particularly as Williams closed to 4-4 during the opening session, as well as this afternoon as he snatched frame 14 to close to 6-8.
Having seen Michael play a number of times over the past four or five years, his break-building ability and strength when in and around the black spot has never been in doubt. Even as a 16-year-old, he could compile breaks as effortlessly as players ranked many places above him, but he lacked the experience and for me, there were also question marks as to his temperament.
Today however he answered any such doubts and like close friend Jamie Jones a year ago, could yet do some more damage in this tournament.
20:17: Back in the media centre after a trip out to Cafe Rouge, Barry Hawkins has extended his lead to 9-3 against Jack Lisowski, in what is proving to be a baptism of fire for the Crucible rookie.
Over on table one however, much slower going as Shaun Murphy eventually emerged victorious from a frame spanning 57 minutes and 41 seconds to extend his lead to 6-4, before swiftly adding the next to move three clear for the first time in the match.
First to prevail tonight though was Hawkins, who soon wrapped up a 10-3 win against Lisowski to progress to the last 16 for a third successive year.
Immediately into the media area was Jack Lisowski, and the theme of his press conference would soon become clear…
"Barry played really well, I couldn't quite get my concentration going and he beat me."
"I was trying right to the last shot, I felt like the crowd kinda wanted me to win a frame, they felt a bit sorry for me at the end. But I've had a great few months, I've been to China and Ireland and managed to qualify for this as well, so it has been a really positive few months and I'm not going to get too down, I'm quite exhausted. Just not meant to be this year."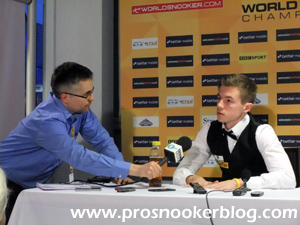 "I learned what the venue is like, that the crowd is really close, that your concentration has got to be 100% to compete. I just need to improve my concentration."
"I was nervous for the first frame yesterday and then I felt quite relaxed. But the whole match it wasn't really nerves, I just couldn't get my concentration."
"You're sat down in your chair and you can see the next game. There is someone sat right next to you, your opponent is there and then the people in the crowd are right there so it is completely different to anything else. When you are on your shot you can see people who are all over your line of shot because they are so close to the table so you have to just concentrate on the actual shot, but I couldn't get it going."
He was soon followed by match-winner Hawkins:
"It was nice to get through and not have to come back after a mid-session interval, nice to win the four frames. I think I put Jack under a lot of pressure throughout the match. My safety was very good and I was just creating chances. He knows he's probably got a lot to learn in that respect, but I'm delighted to be in the next round and overall I'm pleased with my performance."
"Most of the time he came to the table today he was snookered or had his hand on the rail. I knew it had to be like that because of how good a potter Jack is. If he starts knocking all those long balls in he can reel off frames with big breaks."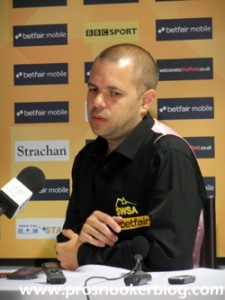 "Obviously I heard a few people talking about how well Jack is playing and how dangerous he is at the moment, but I knew coming here and going out there and doing it is completely different really. I think I put my experience to use in the match. It doesn't bother me really what people say, I know how well I can play, he knew what a tough game he had. I'm sure he's going to do well in the future but it didn't bother me at all really. I just concentrated on what I had to do and I think I've done it pretty well."
Indeed it was an impressive performance from Hawkins, who having famously lost a string of close first-round matches here prior to his victory against Stephen Maguire back in 2011, now looks to be comfortable at this unique venue. As he said above, his safety was for me the decisive factor in the match, while he also scored well when given chances, particularly during the evening session.
Can he beat potentially Mark Selby in the next round? Last year's match between the two can to a large extent be discounted, given the factor of Mark's neck injury, but he has beaten the world number one before in other matches and is certainly capable of springing an upset.
With the press conferences wrapped up, I headed back into the arena with the match between Shaun Murphy and Martin Gould set to resume, the scoreline standing at 8-5 to the 2005 world champion. I was caught trying to take an 'arty' shot down the lens of cameraman Duncan's lens, who then revealed that this is his 16th Crucible, although when I realised that this is my ninth, that doesn't seem quite so long!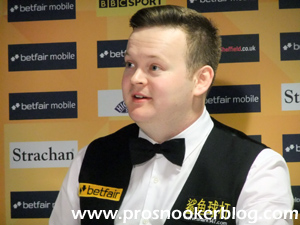 What would follow would be a quite sublime couple of frames from Murphy, who fired in breaks of 96 and 105 to seal his place in the last 16. He had a chance to go for a 147 in what would prove to be the final frame of the match, only to lose position and end up taking a pink, with frame and match still to be won.
Shaun told the assembled press:
"The turning point always comes in these big matches, but you don't always expect it to come so early on. But at 2-0 and needing a snooker, if he pots the yellow and makes it 3-0 I'm in serious trouble, but I was handed a lifeline and really took the challenge on of trying to get the snooker and win that frame, and I got it and did and it got me going. You never feel like you are in the event until you win a frame and once I felt like I was here, I started to enjoy myself."
"It was very, very pleasing to see that the hard work I have put in to prepare for this tournament came out just when I needed it. I felt all day that if I could get my chances, I could score and I was pleased to show that at the end."
And that brought the day to a close, as we headed to the Graduate for the typical snooker festivities, which included Brandon Parker re-enacting Luis Suarez's bite (one for the football fans), on my arm. Only at the snooker!