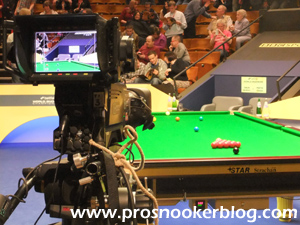 Day three at the Crucible sees three more first-round matches get underway, as the likes of Stephen Maguire, Mark Allen and Ali Carter begin their respective bids for a first world title…
12:07: Back at the Crucible for day three of 17, the opening session sees Graeme Dott and Peter Ebdon resume their repeat of the 2006 final, while Northern Ireland's Mark Allen kicks off his 2013 campaign against qualifier Mark King.
Before getting into the matches, a word on a couple of important days during this first week, including World Snooker's first 'ladies day' which you can read about here. Perhaps even bigger however is an announcement which will announce World Snooker's plans to take snooker into schools here in the UK. More will follow on that this Thursday.
Elsewhere, the unmistakable Clive Everton has made his first appearance of the tournament in the Crucible press room, always good to see as the place has not been quite the same without him.
Back on the baize however, Peter Ebdon has bounced back from his struggles yesterday to win the first four frames of this morning and draw level with Graeme Dott at 6-6. Based on his performance yesterday, I had not expected Peter to make such a fight of it this morning, but as ever, he is demonstrating that you just cannot write him off, despite his highest break standing at just 39 after 12 frames of play.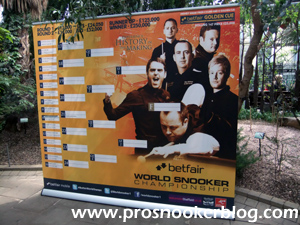 For those of you wondering, if they cannot complete their match this morning, they will back back on the first available table during this evening's session – not during the afternoon session.
15:13 – Having taken a crucial 13th frame to move back into the lead, Graeme Dott added the next to move two clear at 8-6, before the players were hauled off until later in the day in what has developed into an intriguing match. While it has been easy for observers to joke about the pace of the play, particularly given the memories of their final here back in 2006, it must be pointed out that this is the match that has attracted by far the most attention so far today.
Elsewhere, Mark King emerged with a 5-4 lead against Mark Allen in the other match to be played in the morning session, with the concluding frames set to be played this evening. Having been upset by Cao Yupeng at the same stage last year, it is hard to imagine that Allen will fall again, though Mark is of course more than capable and notably defeated Mark Selby at this stage of the tournament back in 2008.
15:30 – Following a wander round the Winter Gardens, taking in the information about the WPBSA's Cue Zone into schools project, I headed back into the media centre ahead of the afternoon matches involving John Higgins and Mark Davis, as well as Stephen Maguire's match against Dechawat Poomjaeng.
Little known by those outside of what I think of as the 'snooker bubble', few people have given Poomjaeng a chance in this match against Maguire, but having seen him qualify last week and taking into account his record so far this season, I fancy that it could be somewhat closer than might be expected.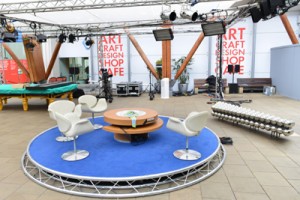 Taking a 2-0 lead Poomjaeng has raised a few eyebrows in here, although following an in-off when in on 32 in frame three, Maguire has closed back to within a frame and is now off and running in the next.
Drama next door meanwhile, as John Higgins misses a black off the spot when in on a break of 57 and looking like closing to within just one frame of opponent Mark Davis. Having since taken the next to close to 7-5, the next frame ahead of the interval looks to be a significant one…
20:22 – The busiest afternoon of the tournament so far as Mark Davis recorded a 10-6 victory against John Higgins to send the four-time world champion crashing out of the tournament at the first hurdle.
The full quotes will follow tomorrow (we need to hold them back for the written press), but Higgins' turn in the hot seat proved to be particularly interesting, as he spoke candidly about his poor spell over the last couple of seasons and as to whether he might have played for too long at the highest level. In the circumstances, I would not say that he was upbeat, but compared to other occasions when I have seen him after defeats this season, he was relatively open and happy to discuss his current thought processes.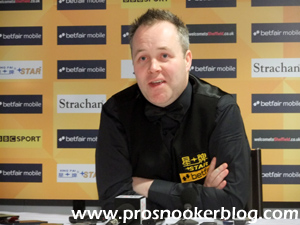 Mark Davis meanwhile was understandably pleased with his victory, which he described as the best of his career, better than his win against Higgins at the UK Championship earlier this season. I always find Mark's press conferences to be quite entertaining, because having spoken to him a few times over the past couple of seasons, I find that he is generally quite easy to read.
That is not a criticism in any way, just that he is generally consistent with his answers and sticks to his story, at the moment that he was not upset to have been forced to qualify due to the entry of Ronnie O'Sullivan. As he explained last week after qualifying, he would not have been seeded for the Masters and UK Championship but for Ronnie's absence, so he had benefited in the past from O'Sullivan's non-entry and was keen to think positively, which is to his credit.
Meanwhile, Thailand's Dechawat Poomjaeng finished the day with a 5-3 overnight lead against Stephen Maguire, producing some fantastic snooker and beyond that, entertaining viewers at home with his personality, reminiscent of that of Liang Wenbo back on his debut in 2008. Nearly walking past the tunnel on his way out, as well as then walking to the wrong table and later clapping his own shot, Dechawat certainly earned a few fans today.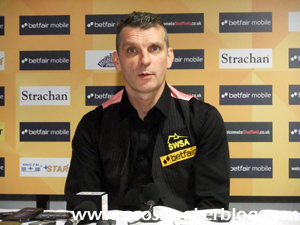 While that match was ongoing however, I also took the opportunity to catch up with Clive Everton, who explained that he is here and working for BBC Northern Ireland this week, so long as Mark Allen remains involved in the tournament.
In a moment of impulsiveness, I then decided to ask Clive whether he would be prepared to participate in a live Q&A session via Twitter, which to my surprise he not only was, but he was also happy to do there and then, which led to a rather ad hoc barrage of questions being put to the great man here in the press room.
I will compile the questions and Clive's respective answers in a separate blog post at some point tonight, but Clive was an excellent sport and with a little more preparation next time, I think that the idea worked quite well so will try to repeat it at some point in the future this week with a few other people.
21:42 – Described as a blitz spirit by Hector Nunns on Twitter, there is a fair amount of trepidation here in the media centre at the moment as to what time we will see a conclusion to play this evening, with Mark Allen 7-6 up on Mark King at the time of writing, with Ben Woollaston and Ali Carter level at 3-3, with Graeme Dott and Peter Ebdon still to resume.
Tuesday morning – The worst nightmare for the press (aside from a 2am finish), is when two matches come to a finish at the same time, resulting in back to back press conferences with up to four players potentially.
That is what happened last night, as Mark King powered to an excellent 10-8 victory against title contender Mark Allen, before Graeme Dott finished off Peter Ebdon with a ton over on table one.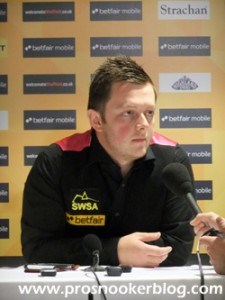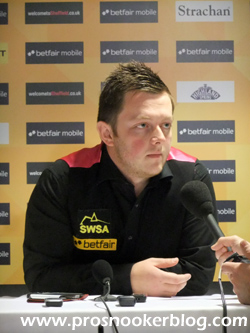 Trailing 8-6, few had expected King to hit back, but that is exactly what he did, taking three in a row with breaks of 74, 89 and 81, before then surviving a missed pink to right-centre on his way to claiming one of his best wins since his victory against Mark Selby here in 2008.
Following victory, King was understandably pleased, in particular with his attitude and relaxed approach to the tournament, not having placed undue pressure on himself, as he had in previous seasons. As for Allen, his behaviour post-match was exemplary and he is already looking forward to bouncing back next season.
Shortly afterwards, Graeme came into the press area and clearly frustrated at the time taken by Peter Ebdon during what would prove to be a lengthy match, called for changes to speed up the game and stop that from happening. Full quotes and opinion on what Graeme said will follow in due course in a separate article.