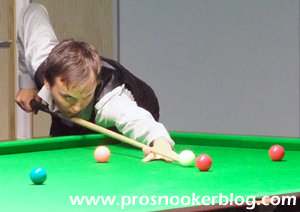 Today saw the first event of the 2013 Q School come to a conclusion, as the first four tour places from the competition were won by Lee Page, Elliot Slessor, Hammad Miah and Alex Davies.
You can read more about their triumphs here at World Snooker, but what more do we know about the fab four?
Probably the player that I have seen the most of is Lee Page, who was most recently on the tour back in 2009/10, the final season before Barry Hearn's takeover. With victories over the likes of talented Irish junior Josh Boileau and Gareth Greene, he will be hoping to fare better than back then, when he was able to win just one match on tour before his relegation.
Another former professional back on the circuit is Alex Davies, who was last on tour back in 2007/8 following his victory at the English Amateur Championship in 2003, when he became the youngest ever winner of that competition. Though he was to spend just a single season on the tour back then, he was able to record wins against current professionals Mark Davis, Michael White and Jimmy Robertson, while more recently he defeated Irish former pro David Morris on his way to Q School qualification.
Completely new to the tour meanwhile are Elliot Slessor and Hammad Miah, both names that I have seen on drawsheets in recent seasons, without managing to catch them live up until this point.
Hailing from the north east, Slessor has wins against Ryan Day and Craig Steadman to his name this season and is well regarded by his peers, while I was tipped off about Miah recently by fellow blogger @garyoncue, who I think I am right in saying practises at the same club as the tour's newest professional.
No sooner are these four lads on the tour however, but the race for the next four spots gets underway tomorrow with the second event of this year's Q School. Stay tuned at snookerorg for all of the latest scores…