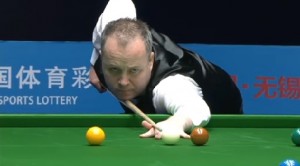 Just a few weeks on from their meeting in the final of the Bulgarian Open in Sofia, John Higgins and Neil Robertson will clash again tomorrow in the final of the 2013 Wuxi Classic, as the pair came through as comfortable winners in their respective semi-finals today…
Click here to view the tournament results at snookerog
Click here to view the latest projected seedings
Having struggled for a long time to produce his best snooker in China, Neil Robertson today showed that those problems are now well behind him, as he defeated Gloucester's Robert Milkins 6-2 to reach his second consecutive final in the country.
Following a scrappy opening frame, Robertson raced into a 4-0 interval lead with further breaks of 71, 51, 59, 77 and 46. Milkins in fairness had not done too much wrong and as Robertson missed the final red in the fifth, he cleared to give himself a glimmer of hope, before adding the next to close to 2-4.
Neil though was not to be denied a place in the final and rounded off victory with a break of 92 in the eighth frame. During the past 12 months or so, Neil has consistently been involved in snooker's biggest finals, including at the PTC Grand Finals, Masters, International Championship and China Open, and with the exits of Mark Selby and Judd Trump early on in this event, this is something that is very much reflected in his position as clear number one in the rankings.
Furthermore, Robertson will be encouraged at the way that his performances have improved during the course of the event, as last season he seemed to develop a habit of producing his best snooker in the earlier, rather than latter stages of tournaments.
For John Higgins meanwhile it was a similar story, the Scot racing into an early 5-0 lead, before surviving a mini-comeback from his opponent Matthew Stevens to also win 6-2. It was not the most high-scoring performance than John has ever delivered, but as ever, when it came to the key balls in the match, he did not disappoint, notably during a fourth frame re-spot which could have changed the match had it gone the other way.
I have not seen too much of John this week, but having already won in Sofia and followed that up with a run to the final here, it is clear that he is performing as well as he has done since his victory in Shanghai against Judd Trump last summer.
It is often said about Higgins that he 'is not at his best' but ironically enough, John is probably the best in the sport at winning when playing that way and for me will begin the final as a narrow favourite.
Regardless of the result, it has been a strong event for both players, as it has for Milkins and Stevens, despite their defeats today. For Milkins in particular, the result sees him up into the top 16 provisionally for the first time, deservedly so given his consistency over the past couple of seasons.
Also impressing this week were the likes of Cao Yupeng and David Morris, both of whom took advantage of the new, flatter format to reach the quarter-final stages of a ranking event for the first time, while Xiao Guodong, Ben Woollaston and David Gilbert won multiple matches in Wuxi also.
Regardless of the format though, the best players have again found their way through to the final and it is one that I am very much looking forward to see unfold tomorrow…