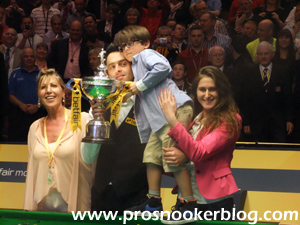 While here at Pro Snooker Blog I like to turn the spotlight on the players who do not get so much attention in the mainstream media, there can be no doubt that five-time world champion Ronnie O'Sullivan remains to many snooker fans across the world, the most popular player in the game.
Indeed, while snooker has a number of great players, who are shining stars in the sport, Ronnie is one of the few who transcends snooker, known by many who do not even follow the sport. Perhaps the only player these days capable of appearing on the front page of the national press, as well as the back, he is no stranger to grabbing the headlines, whether he wants to or not.
But for all of the many hundred, even thousands of articles that I have read about Ronnie over the years, there are still so many questions that to me as a snooker fan have gone unanswered. We have all heard about the 'controversial' moments, but what about the other stories?
Last week during the UK Championship, I was lucky enough to be able to be able to spend an hour with Ronnie and ask him some of those questions.
Click below then, to read part one of my interview with Ronnie O'Sullivan, as he tells us about his form at present, his approach to scheduling, how the tour compares now to his early days as an up and coming professional and are his best memories from his snooker career so far.
I hope that you enjoy reading this as much as I enjoyed putting it together…
PSB: Hi Ronnie, so how are you feeling and how are you playing at the moment?
Ronnie O'Sullivan: I've played better to be fair, the last month hasn't been as good as I have been playing, but still playing ok.
PSB: Is there any particular reason, that you have had a break or is that just the way that form goes?
RO'S: I think it's just human nature. I've had two really good years, playing really well, I think you can't always maintain a high level of performance all of the time. I just think it's a natural…like biorhythms they call it, nature takes its course.
Now it is important just to consolidate and just try to navigate my way out of it. You try and do as well as you can and treat it as just a spell that everyone has to go through, rather than get down on yourself, you know.
PSB: This season you have entered a few big events, a few European Tour events, won one and had another final. How are you juggling your schedule at the moment?
RO'S: I mean to be honest with you, when I was at the World Championship, I said that I wasn't going to play any major events, because I enjoyed PTCs, because I do. There is less pressure on them, you are just playing for the fun of it and you get a lot of snooker in a couple of days and I still maintain that. They are good fun, they are hard, but good fun.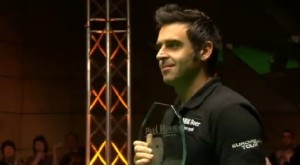 Ronnie wins the 2013 Paul Hunter Classic
I decided not to play in many of the big events, but obviously this time of year coming up you have got the Masters, the UK Championship. I decided to have a go at Chengdu [the International Championship], I wasn't going to, but I thought that I might as well get involved.
I didn't plan on playing many big events this year and I've played in more than I thought I was, but again you just play in what you feel at the time and things always change.
PSB: Do you like to have a run of tournaments, or do you prefer to have one and then a gap and then another and a gap? Do you have any particular approach to it?
RO'S: I like to have a run of two or three because you are giving yourself a chance to build momentum, but I've probably played in four now and I will play in the Masters, then I think that I would like to have a rest for four or five weeks, just to chill out and get back to the practice table.
I do think that you can over-play, over-compete and what happens then is that you run the risk of not getting so excited about playing matches. You just become like 'oh it's just another match' and it is sometimes important to keep those competitive juices flowing and not go stale basically.
PSB: Yeah and it's not like you are chasing ranking points or anything like that…
RO'S: No, that's right. You don't want matches to become just like a practice session. You wanna kinda feel like you are excited to play in them. There is a tendency that you can play in so many matches that you just become, without realising it, a bit stale.
PSB: Someone said to me for example that they don't want the UK Championship to become a results factory, you still have to come here and feel like it is a big occasion…
RO'S: Yeah, I think each player kinda finds out what works for themselves and for me I know I couldn't play every tournament and expect to play well all the time.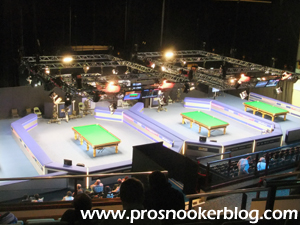 The 2013 UK Championship
I think you have to find that balance between sometimes going away to the practice table and maybe working on a few things, getting some things grooved in, so then you come to the tournaments and it's there that you can see if what you have been working on has actually done you any good.
PSB: Yeah, I mean it took a hell of a lot out of you a couple of years ago when you were chasing the points to stay in the top 16 didn't it? You were playing every week.
RO'S: Yeah and then I ended up having one of my best seasons! You know, you just can't really put your finger on it, sometimes you have to just go with how you feel. If you feel like you have to play a few tournaments, just play a few.
If I was in Ding's position now, it's obviously good to keep maintaining, but I think now would be a good time for him to back off a little bit and just conserve a little bit, to maybe have a good run at the World [Championship], because he's certainly playing well enough to do it.
PSB: Do you think that you can build your form up to a tournament like that or not?
RO'S: I think sometimes you just have to look at the schedule that you play, analyse how you have played and analyse why you have played so well.
I think without realising it, when I had my good season, I played a lot at the beginning of the year, then I played the German Open, the Regal Welsh, then I didn't go to Haikou and then I didn't go to Ireland [for the PTC Finals] so I ended up having like a month off. But then I went to China and felt a little bit rusty, but it was an important part of the season with the World Championship coming up.
So maybe, you know I didn't intend on missing those tournaments, but I did and it wasn't like a masterplan, it just happened to work out well, so in some sort of ways I'll probably try to do something similar this year, leading up to the Worlds, because 17 days is a long time.
PSB: On another note, the rankings will be changing to a money list, do you think that is a good idea for the sport?
RO'S: Yeah, I think it's a good idea. I think it's a fair system, you know if you play in the tournaments and do well, it gives you the opportunity to then not have to play in some of the other events so you can then schedule more what you want to play in. If you do well in the tournaments, it's a luxury that you can have – if you do well.
You earn that right and if you don't do so well then you have to play in a few more. So it's a win-win situation really.
PSB: Yeah, I mean how does the tour compare now to when you started out? I was looking at your first season when you played like seven qualifiers just to get to the last 128, it was a different world wasn't it?
RO'S: It was horrendous mate, but at the time I didn't really realise it, I was 16 and just wanted to play snooker, so for me it was just like, I had a match every day at Blackpool, it was fantastic.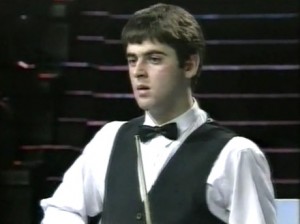 The early days
But then obviously I played like 76 matches, so then come the start of the season, everyone else was playing their first match and I had played 80 matches. I think in hindsight I probably overplayed and I didn't really do so well that year.
I probably wasn't playing as well as I did at Blackpool when the major events started, so you know again, it was just a case where the following year I picked my game up again.
PSB: You played Fred Davis as well didn't you, do you remember that?
RO'S: Yeah! I remember it really well yeah, I remember playing Fred. Legend.
PSB: Did you realise at the time how big that was?
RO'S: Erm, not really no, it was just like another opponent for me and I was just knocking them over like skittles!
I just remember thinking there is Fred Davis, he had an MBE up by his name and I was seeing this little old boy walk around the table and he had a lot of class. I remember saying to my mate that the MBE should be near my name, it's on the wrong person! (laughs).
I was a cocky little sod because I was confident. I was playing well and I had the confidence of a 16-year-old, but yeah when I look back I think 'yeah, I actually played Fred Davis', which is like brilliant, it's amazing.
PSB: It's awesome!
RO'S: Yeah, the only thing better to that would be playing Joe Davis, so that was great.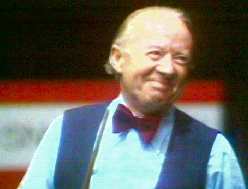 Fred Davis
PSB: At that time when you were coming through and you had that confidence, did you just think that you were going to beat everybody? What was your attitude at the time?
RO'S: No I didn't think that I was just going to go in there and bulldoze them over, I was just excited at playing. To be fair I never thought that I was going to win a big tournament, be on TV. It was always just my dream to get on television and play like, just to get to the TV stages of a tournament.
Then obviously I just went through those matches and got results, but then once I got through them matches, I started playing these top 16 players like your Gary Wilkinsons who were top, top, top players at the time.
I remember he beat me and I thought it aint like it was at Blackpool where you got chance after chance! This guy just throws me out for five or six frames, you know I couldn't even feel my feet sometimes when I went to the table because I had been frozen out for so long.
So that was kinda a different game, I had to be a bit more patient and you couldn't just blast these players off the table, because they were clever players. I think over the years I've had to mature and change my game a little bit, whereas I think John Higgins, I think it suited him more playing the top players because he had a much more better balanced game, so he could compete with those guys. His game was more percentage if you like, he had a great safety game, great potting, great break-building. Me, I just wanted to pot balls.
PSB: I bet Alan McManus was like that as well…
RO'S: Yeah, McManus was a tough competitor you know and their games suited playing the top players more, whereas mine, I think I went for too many shots really, but I could get away with it with the players at Blackpool in the early rounds.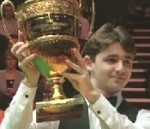 Alan McManus
But come when you was at the venues and playing like the top 16, top 32 players, I couldn't get away with it, I had to tighten up a little bit.
PSB: If you were coming through now as a tour newcomer, would you prefer to be playing other rookies as under the old system, or top players like you straight away as we have seen this week?
RO'S: I'd like to just get straight in the deep end I think, any player that thinks they are good enough or is good enough, they are quick learners.
This kid Shane Castle, I think it's his first tournament. I've heard some good stories about him and I just think that someone like him, if he is going to make it, he will learn quickly, so the quicker he gets in there, the better for him really.
But then I think that there is the other side of it that some kids can come in, get a bit of a drubbing, lose their confidence, go home despondent and just maybe, can't handle it you know? Only the tough will survive, which is a good way of flushing the system out I suppose.
But I do believe that for some people it is better than they have some experience at amateur level. I mean I had a good junior, good amateur level, so coming in as a professional I already felt experienced enough to compete at that level, do you know what I mean?
I'm not sure you know, I think there is a case for both really.
PSB: So you won the UK Championship in your second season, you won the British Open soon afterwards, how did you deal with the attention and the expectation at that point?
RO'S: I suppose the UK, there was no pressure on me at all because nobody really knew me and again I was pleased to have made it to the TV stages of a British BBC event.
I remember I got to the semi-finals just before the UK which was in Dubai and [Stephen] Hendry beat me in the semis. I remember going into that match thinking you know, I just didn't want to get slaughtered.
He beat me 6-2 and I came off thinking 'I could have won that' – I had enough chances to win it and I know everybody says that they had lots of chances, but I believed that I was the type of player that if given the chance I could clear up in one visit. So when you do get chances, in the back of your mind you think well if I had played better, if I had believed in myself a bit more, then I would probably have had a better chance of winning.
Ronnie wins the 1993 UK Championship
So after coming out of that match I then went into the UK with a lot more confidence and I remember McManus was one of my heroes at the time growing up, he was like a new pro and doing really well. I drew him first round in the UK and I managed to get through him, I can't remember the score, then I beat somebody else and then I was onto the TV stage and I remember beating Darren Morgan, Steve Davis, Ken Doherty and then I got Hendry in the final and I was like 'wow!'
I knew then having made the final there was a great release, there was no pressure on me really. I just went in there relaxed, enjoyed it , I played my natural game which was going for my shots and they went in and that was it you know.
It all changed for me then really because obviously unbeknown to me it was a bit like going into Big Brother or Celebrity Get Me Out Of Here. You don't know what's going on in the outside world because I was so engrossed in what I was doing that week at the UK Championship…
PSB: It's like a bubble isn't it?
RO'S: Yeah and it wasn't until afterwards when I had to go and do a press conference the next day at Barry Hearn's office and I went in the café and I remember this fella from EastEnders and he came in and was like 'alright how are you doing!' and it was a shock for me that someone like that, people recognised me and that takes a bit of getting used to.
And then obviously you are young, you like the nice cars and the nice this and maybe it went to my head a little bit. I don't know, but I kinda took my foot off the gas a little bit and lost a bit of my professionalism if you like, things happened with my mum and she went away and my dad went away and I just lost it really for a few years.
Yeah, sometimes success can not be a positive thing because you know it can kinda lead you down the wrong path sometimes if you are not grounded enough.
PSB: And then you got towards the end of the 90's and for me, as a 27-year old who grew up at that time and I still look back to 'the big four' of you, Stephen Hendry, John Higgins and Mark Williams – what was that like for you to be part of?
RO'S: Yeah I mean Hendry was the king obviously, he was the undisputed world champion. He was a little bit before me, Higgins and Williams. We were always playing catch up to him no matter what because I think he had four world titles by the time that we had turned pro, so he was always the governor if you like.
John Higgins was a class player and Williams was a tough competitor and a class player. Growing up in that era of snooker, I suppose we didn't realise it but we all kind of inspired each other. You know if Hendry had done well, we'd all look up to him, but if Higgins did well, I'd wanna kinda win the next tournament and for me to do well and then Williams would want to get in on the act. We were all trying to gatecrash each other's party if you like and I suppose that inspires you to work harder at your game.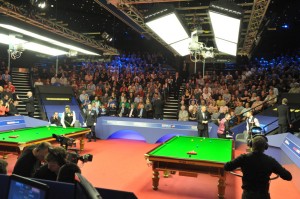 The big four enter the Crucible in 2012 (photo by Monique Limbos)
We respect each other's games to have to know that we have to work hard and a little bit like I said with the Kenyan runners [referring to the book which Ronnie is reading at the moment], we were pushing each other on to a higher and higher level. I think that is what has held us in good stead now, because obviously we are not young any more, but we are still competing against a new generation of players if you like, which is hard to do.
I think we came from an era where it was probably the highest standard. I think that the top four then would probably beat the top four now? Maybe…yeah.
PSB: That was going to be my next question, the top level, obviously now the depth is ridiculous.
RO'S: Yes. I think the top four players, if you took me, Hendry, Williams and Higgins out of it and then took the top four now, Selby Trump, Ding and Robertson. It's still…that would be a mighty match-up if it was a team match!
You still would be hard pushed to say they are a certainty, but I'd like to be sitting behind Higgins, Hendry and Williams as my team mates put it that way. I'd feel in capable hands.
Like you said though, there is strength in depth now, whereas before you would probably have an easy ride to the quarters, semis, not an easy ride, but you probably wouldn't be pushed then as you might be now.
It's as broad as it's long, you know what I'm saying? It was good growing up in them days.
PSB: You were saying in the press conference the other day about the tobacco sponsors, the hospitality and so on in the 1990's, what was that like to be part of as well?
RO'S: Yeah I mean it was good times. I remember Peter Dyke who was the Embassy chairman and everything was just like a great event, it was all about having fun and the players were looked after unbelievably and nowadays it's more like you just pitch up and play, whereas then it was like courtesy cars laid on, your hotel was laid on, you had your own driver, you know there was a little bit more…higher standard to the events if you like?
But that was because tobacco had the money and they threw it in and they could afford the expense. Now, those sponsors aren't about, but it would be good if snooker could get banks involved, because that's where the money is, the corporate money.
They were good times when I turned pro because of the tobacco sponsors, but Barry Hearn has come in now and he is equally trying to get it back there, but he just can't do it overnight.
I think the sport in itself needs to be…has to be broken down and rebuilt back up again in many ways, but China coming in has been good for snooker, I think without China you probably wouldn't have a tour really. If you look at it you would have the Welsh, German and two BBC events because the Masters is an invitation event, so you would be struggling really without China.
PSB: What do you think to playing in China? You won one in Shanghai in 2009 and a few early in the 2000's I think?
RO'S: Yeah, I won a couple in China early doors, so I've had some good results out in China. I won Shanghai in 2009 when I beat [Liang] Wenbo, I've had a semi in Beijing, I can't remember. I've had a few results out there.
But I like China, they put on a good event, they are enthusiastic, yeah, I'm all for it really.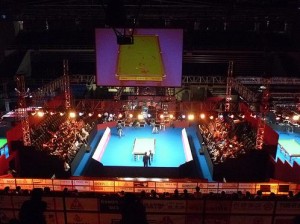 Snooker in China
PSB: I guess it's just the travel I suppose?
RO'S: I think it would be ideal like you say if you have PTC and you go straight to China, I think it would be good if they could do that with some of the other China events, but I understand that China don't want one event after another event…
PSB: It would be nice if you could have a swing like in golf for example?
RO'S: Yeah, it would be nice if you could kinda do a little loop and go away for a month and play in four events, you know, do a little bit in Europe or whatever, but that's the way it is.
And again, I just think that if you do well, earlier on in the season then you might not have to go and play in every event in China, but at least there is the opportunity to, so yeah I think it's good.
PSB: Looking back at your career, which tournaments for you have been particularly special, any perhaps less obvious memories that really stand out for you?
RO'S: I think one of my best victories, one of my most important victories was the German Masters in 2012, because I had played two or three years where I didn't get any results and I made a concerted effort if you like to focus on my snooker and try to get back to some winning form and the results didn't come straight away…
PSB: You were 4-0 down in the first round weren't you?
RO'S: 4-0 down yeah, but I was playing well you know, I had played well against [Judd] Trump when he beat me in the UK, I played alright at the Masters, I played brilliant in some of the PTC events, I just wanted to get a result in a major event.
So when I went to Germany and I found myself 4-0 down, I just thought 's**t'. I really doubted whether I could do it anymore…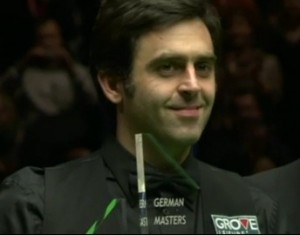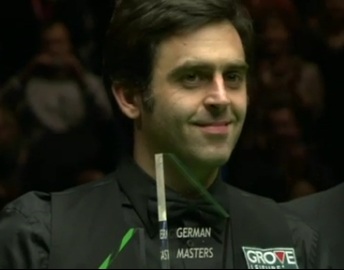 2012 German Masters champion
PSB: Really?
RO'S: Yeah, seriously I just thought maybe my time was up. They don't look scared of me or I'm just not doing it or the standard is getting better in depth and I'm just getting caught out here.
So to win that tournament, I thought 'no, I can compete against these guys' and then obviously the best moment was winning the 2012 World Championship and having little Ronnie there, that was my greatest memory of snooker really.
PSB: Your kids are brilliant aren't they? I saw them the other day with you in the media room…
RO'S: Yeah they're good, it was always an ambition of mine that when I had children, I wanted them to see me perform, playing and I've been able to do that now, so that was a good feeling. So yeah, I'm very proud.
PSB: Can you think of any other particular tournaments that stand out?
RO'S: Obviously the first UK stands out, that was mega, massive for me. But you know some of my best memories in snooker were when I won the European Open [2003], I played Hendry and it wasn't even televised, down in Devon, but it was just one of those matches where the whole tournament I played fantastic. I played brilliantly in the final and I just remember that so well because of how I played.
And then the following tournament I won in Ireland, I beat Higgins in the final and I remember just playing fantastic, so I had won back to back ranking events and I remember I was just playing so well.
But not really, I don't remember some of the others, because I've either not performed to my highest standard and just got the victory. Those tournaments that I have mentioned have been my best moments.
Click here to read part two of the interview…