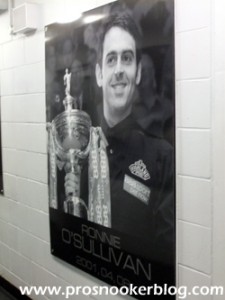 Following on from the first part of my interview with five-times world champion Ronnie O'Sullivan (which you can read here), click below for part two, during which Ronnie discusses topics such as his 'big four' rivals of the 1990's in depth, his stand out players of the current generation, a potential commentary career and much more…
PSB: Of the opponents you have played during your career, who have you enjoyed playing the most?
RO'S: I had some great battles with [Mark] Williams, I know I got the upper hand on him a lot of the time but I always found him a hard, tough opponent to play you know.
John Higgins is probably the most difficult opponent you could play, because he has got such a good all-round game. He scores so heavy, he can pot so well, he's good under pressure, he's got the best tactical game you will ever play. So for me he is the best all-round player I've ever played.
But the greatest player I have ever played was Stephen Hendry. Alright his tactical game wasn't like a Higgins or a Davis, but under pressure his scoring, his potting, he potted balls that I've never seen anyone pot, so for me he was the greatest.
So I enjoyed playing all three of them, but I think the hardest was Higgins, because you just knew you weren't gonna get much. If he was flying mate, you could just sit out six, seven centuries and not see a ball. But then Hendry, he would make seven centuries against you, but you would still get a chance.
Like against [Ken] Doherty he had seven centuries and he was only 7-6 up, John Higgins you wouldn't get that many chances against him, he would just be nailing you more granite like.But all three of them were special in their own way really.
PSB: Yeah for me when I was growing up, my hero was Hendry and I loved what you said this year at the Crucible, that Hendry would pot the long red and finish on the black, not come back up the table to baulk – was that the difference?
RO'S: Yeah, I mean every time you would sit there and you could see he was going for it and you would think 'go on yeah, go for it!' because he's going to leave me in. Then he'd pot it and you would go 'argh' and you would sit there and go '****ing hell how has he gone for that and got it?' Then he would come on the black, make a hundred and then he just kept doing it time and time again.
So then it got to the point where you would play that shot and you would think 'he's going for it and I know he's going to pot it and he'd get it and you would just think '**** it' and there was nothing you could do about it. But then obviously there came a point where he wasn't making those shots.
Stephen Hendry
So for me, that's what made him the greatest, because he didn't compromise and he got those shots. Higgins would play back for a baulk colour, Williams would play for a blue and that's probably the right shot to play, but Hendry just had his own style and just decided that if it's first to 10… He said to me once that if it's first to 10, 'as long as I make ten 80+ breaks, I can't lose' and I thought '****ing hell' (laughs), what an attitude to have!
He didn't care so much if he missed a ball, he just knew that if I get ten chances, one per frame, first to 10, I'm gonna win. And I thought that's unbelievable, it's a bit like Barcelona, you score four, we're going to score six. That's how he played snooker.
PSB: Higgins, he had three or four years after his first world title when he was not winning so much and then he came back and won three more world titles. Do you think he came back better or that he was better when he was younger?
RO'S: I think Higgins was better when he was younger, I remember when he first come on the scene and he won his first tournament and it took him a while to break through, but when he did, you just thought he looked so solid and like granite.
Genuinely he could have matched Hendry's seven world titles. When I look back and think that he has got four, he went ten years where he didn't really do anything at Sheffield and for a player of his ability that's not right. I believe he should have won more really, still four is great, but for his ability and the way he plays, you just think that his game was suited so well for the World Championships, because for me he's won two of them not playing anywhere near his best.
But Higgins is a great player, he'll always be a great player. Even when he's not playing well, he's a great player. You watch him, the way he just cues the ball, the way he walks around the table, you know he's a class act, you couldn't fault his game really.
PSB: And Williams…
RO'S: Williams was a different sort of player, he was more, he would make 50-60 and he would nail you, where Higgins would make 80 or 100 and Hendry would do the same.
His sixties, he was such a good tactical player, such a good single ball potter, that invariably those sixties won him a lot of games as well, whereas a lot of players would make 60 and lose those frames, but Williams would pot such a good ball and get you safe, he would do you in a different way.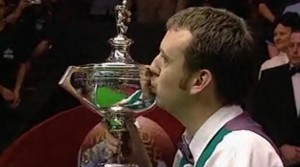 Mark Williams
He was much more of a cleverer player in his approach really. But like me when he first came on the scene he was very attacking, but I think he realised, him and me, we both needed to start refusing balls that we would probably go for, whereas Higgins, he hasn't changed his game from the age of 13, 14, he has always played the same.
Me and Williams, I think we both probably went for more balls than we should have done. We've both had to work on that tactical side to get the results we've got. I'd say that Higgins is the most complete player of the three of us by a million miles.
PSB: Even yourself?
RO'S: Yeah, yeah. I've had to learn to become a better tactical player, I've had to bring people on board like Ray Reardon. I've had to learn that side of it and I have learned, but still I'd give Higgins the nod all day long for an all-round player, absolutely yeah.
PSB: Looking at the current field, who stands out to you the most, you mentioned Ding Junhui to me the other day?
RO'S: Yeah at the moment you have got to say Ding, but for me talent-wise and potential you have got to say [Judd] Trump is an aggressive, great potter, blessed with great cue power so he can get out of trouble, he can play lots of shots.
I don't think you can pick anything between Trump and Ding, but you could say Ding is the more all-round snooker player, like John Higgins.
I'd put Ding more in the John Higgins mould where his break-building, his position play, his safety, he just looks like the complete player to me now,  I think he has got his mind right, he wants to win. I'm watching him and now those three victories he has had, I didn't see much of them other than what I see on TV but I played him in Coventry and I've been watching his games here and you could just see he's playing good players and he's making 60's, 70's, 80's, 60's, 70's, 50's. I'm watching a lot of his safeties and he is getting his safeties good and his potting is all there.
Ding Junhui
For me he is the best all-round player that there is out there and I think he's just blessed, like John Higgins was, that balanced game. But I think Trump is much more attacking and a dangerous opponent. So there's not much you can pick between them, but for me they are probably going to be fighting it out them two and they will have a good rivalry I think.
PSB: Have any young players caught your eye recently?
RO'S: I've not seen this Shane Castle play but, I remember people speaking about him three or four years ago and saying what a great talent he was and Selby said that he looks a class act. A couple of people that I respect their opinion have said that he's 'the nearest thing I've seen to you' and I thought okay, right.
But of the people that I've seen, I like this new kid from China that beat Hawkins and Davis in Chengdu [Zhao Xintong], there's him who I think is a great young talent and then there is the other kid, who I've seen before and played in Doncaster, Lyu Haotian, and he's a brilliant talent and apparently there is a 13 year old in China who is meant to be really good
Of the English players this Shane Castle is only 15, gave a good account of himself against Selby, so he's definitely, definitely one who will be on the circuit and winning tournaments in the future by the sounds of it.
PSB: When you are looking at young players, what do you think is the most important thing to have at that age, is it technique, talent, bottle temperament. What can be learned later?
RO'S: I think you need to have talent, if you are going to become a champion, like a John Higgins or a Stephen Hendry, you definitely need that as a base and then obviously if you have got the bottle, you have got the temperament.
The safety you can learn that. In some ways if you look at Hendry, he never really played much safety, he played it when he had to, begrudgingly, but if I had a young player who could pot so well and score like Trump I'd be saying just play safe if you have to. At any opportunity if you fancy a go, go for it.
I think that's where you get a serial winner, like a champion, when they attack the balls, they are aggressive and they do it in a fast, fluent way and I think to be a great player you need to play with fluency.
Shane Castle (On Q Promotions)
A lot of players are a bit stop-start-slow and their rhythm can chop and change. I think to be a class, a winner of regular major events, you need to have a quick rhythm, a quick tempo, because that intimidates opponents, it unsettles them. They can't get comfortable, they can't relax in their game because they are always worried about 'are you going to blow them away, are you going to win the game in 20 minutes' so you can have that effect on how they play their game
Whereas if you are a little bit more reserved and slow, some players will think 'well I know he isn't going to blow me away so I can just work my way into a match', whereas if someone like Trump gets on one then you can be 5-0 down, think **** me, what's happened there. So for me, it's important to play with speed, fluency and be an aggressive player.
PSB:  Talking of the slower players, do you feel like you deal with them better now than you used to?
RO'S: Definitely, I don't mind playing the slow players, because like I say, you feel like you can settle into the match, that they are not going to blow you away, whereas someone like Higgins, although he's not seen as a fast player, he has got such a good rhythm, such a good tempo around the table, everything happens just so naturally.
But yeah I don't mind playing the slow players, since I've been working with Steve Peters, he has helped me not to get so frustrated with myself, so I can be a bit more patient and a lot of people used to think it was the slow players that had this effect on me, it wasn't, it was how I felt about my own game and if I was struggling and I was playing a slow player, it just made it that much worse.
I could be struggling and playing a fast player and still be feeling the same, but the death is over quicker! But sometimes with a slow death it's like 'you're torturing me here!' can you just get it over with quicker, whereas Hendry, there were plenty of times where I've played him and Higgins, where I've just felt that I couldn't really string two balls together, but because they dispatched you quickly, that was alright, it was over and done with,
Whereas when someone like [Peter] Ebdon or [Mark] Selby, when they torture you and you are not feeling it and think that I am never going to win this match anyway, the slowness of it can make it worse sometimes.
But it's not the slowness that beats me, it's myself. You know within yourself, that you are not going to be able to string two or three balls together…
PSB: And you have got respect, obviously they are doing what they have to do to win?
RO'S: Yeah absolutely. I've got total respect for Selby's game, a lot of people think I haven't. And I didn't before, I used to think I didn't like the way he plays and whatever.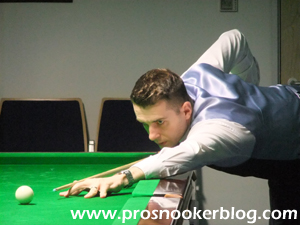 Mark Selby
But having got my own head right, I've then started to realise that hold on, he's doing what he does very well, he's getting results and you can't knock it. He wants to win, he gives this sport everything he can and you have got to respect that and admire that, someone who is so professional as him really.
PSB: Moving on, the World Championship is a long 17-day haul, but do you think that the tournament would be devalued if the format was to be reduced?
RO'S: No, I think 17 days is a long time personally, it goes on nearly as long as the Olympics goes on so it's a long time to play one event. If they did shorten it to ten days, I don't think that it would devalue it at all, it's still a major event, still a huge tournament, but I suppose that they will want to keep it as it is because it works well.
PSB: Obviously you have always been hugely popular with the fans throughout your career, how much has that meant to you?
RO'S: It's good, it's nice, I've got a great relationship with the snooker fans around, wherever I go.  I feel like a home player even when I play in China, so that's nice, but then sometimes it has its drawbacks because you know that they are expecting you to perform and if you don't perform, people get disappointed and you can buy into that a little bit.
Really you are just out there doing your best and you can't win every match, you try your hardest and sometimes things just don't come off and then you feel a little bit like you have let the fans down, because they never let me down. So in some ways you want to repay them with that faith and put on good performances.
When I look back sometimes at YouTube and look and some of the matches that I have played and the 147s and I look at the people in the crowd, the way they are reacting and I think 'Jesus man!' You don't realise what an effect you can have on people you know and it's nice, it's nice that I have been able to touch people's lives in what way and you know, it's a good feeling.
PSB: I remember one particular break at the Crucible in 2012 and I was in the media room at the Crucible and I said that you wouldn't make more than 40 and you cleared the table!
RO'S: Yeah! I remember that, I remember in 2012 I had a couple of standing ovations and they weren't even 147s, but they were 100 clearances and there was some shots I was playing and I thought that I was hitting the ball really well.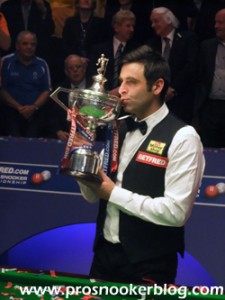 Ronnie wins world title number four in 2012
They were going in the back of the pocket and making a nice noise and every time I did one of those you could hear the crowd roar and that's how I felt and they are feeling what I'm feeling and then when they gave me a standing ovation at the end of it I went 'wow I've never had that before.'
Obviously for a 147 but to make like 120 or whatever it was and I could see them all up on their feet and I thought 'wow that's a great feeling' you know? So yeah, it's those moments that you think, not all the time you get that.
PSB: Obviously off the table, I've known you for 2-3 years now and you are not what people would expect from your media image, you are quite a quiet person really aren't you?
RO'S: Yeah I am quite quiet, but I have got this reputation that I am some sort of rebel or whatever and I do get times when I am playing and I am quite introvert more than anything, I've got my own negative thoughts going through my head and sometimes when I have got that going on I'm not the most talkative or most approachable of people.
But away from snooker, I am alright, but sometimes this game can get the better of you and even when you are not playing, it's still going around your mind. The game lives with you a lot of the time.
But yeah I wouldn't say that I am a rowdy person or whatever and I don't think many snooker players are. It's not in their nature, we're not like popstars or footballers or whatever, snooker players are a certain breed of person aint they?
PSB: What do you enjoy doing when you are not playing?
RO'S: I like cooking, obviously I like running, just spending time with my children really, that's a big thing for me.
PSB: Isn't one of them an Arsenal fan, I saw the hat the other day?
RO'S: Yeah, he's mad Arsenal, mad, mad Arsenal and I was never really a mad football fan, but I am watching him grow up and he knows all the players names, who has scored, how many points they are ahead, who they are playing next week.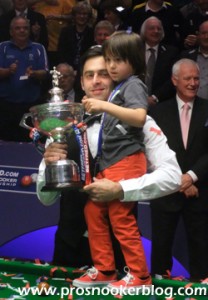 With 'little Ronnie'
He's a proper Arsenal nut and I think 'oh no I'm going to have to live this for the next 20 years, the next 50 years!' (laughs). He's going to be one of these 30-year-old men with an Arsenal shirt on and I think no I hate that!
PSB: Do you go with him?
RO'S: No, his mum takes him, I don't like going to the football to be honest with you but I would take him if he wanted to go, but I'm away a lot and his mum takes him so that's their little bit of fun time.
PSB: Looking to the future, talking generally, not necessarily about yourself, but how long do you think that snooker players can maintain a tournament winning standard? What starts to go first?
RO'S: I can't really say what age it is because I have played better these last two years than the previous ten or twelve, so for me I'm playing better than I was.
Stephen Hendry retired at 43, but didn't win anything for the last ten years and probably played on I think even himself would say five or six years more than he should have done…
PSB: And you have Mark Davis playing at his best at the age of 40…
RO'S: Yeah exactly, Mark Davis is coming back to play some great stuff. I think sometimes, you cram so much earlier on in your career, it's only natural that you can't keep going unless your name is Phil Taylor (laughs).
You look at [Andre] Agassi, his career lasted a lot longer because he was in and out of the sport a little bit like me, so maybe I have gone that way whereas Hendry went the [Pete] Sampras route and just dominated it year after year, whereas Agassi put weight on, fell down the rankings, got himself back up for it again, a bit more like the Rocky type where he kept coming back for it.
PSB: Do you think that it is mental more than physical, that you get worn out from playing so much snooker?
RO'S: Yeah, I don't think that you could dominate like Hendry did for 20 years, I think he had a 15 year period from say the age of 18 until he was 33, where he just smashed it. To do another five, ten years on top of that, that's like a quarter of a century, can you maintain that intensity, that focus? Because every time he would go practice he would be like as if he was doing a match, doing five or six hours every day.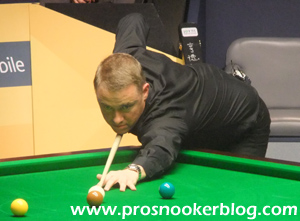 Stephen Hendry
I think you just get the point where you think 'I'm fed up of it'. All you do is hit balls and pot balls and you think that there has got to be more to life than me just potting balls, there has got to be!
I'm a creative person, maybe in my second career I should be a chef or something, where I can learn because I don't think that I can learn anything else at snooker, it is a bit like Groundhog Day. Some days are a bit better than others, but most days you are just going through the motions.
PSB: If somebody were to ask you when you were at your peak as a snooker player, when would you say?
RO'S: My best year, by a million miles was 2011/12, my best year by a mile. I've never played that well before, for a consistent, sustained period. I had played well before, had good moments, good spells, good tournaments, but for a whole season, I felt like a robot.
I just felt like if my form dipped a little bit, I'd quickly get it back and I felt like every time I was going to the table I was going to clear up and though I'd had moments where I had felt like that, this was a whole season where I felt like that and I just felt so confident as a snooker player, probably the most confident that I had ever felt.
PSB: That's interesting, I think in the past you have always looked back to when you were younger, your first world title or even earlier?
RO'S: I think my most consistent snooker was when I was 14, 15, 16 and that period, but after I finished my qualifiers at Blackpool, I remember my game sort of dipped.
I remember John Higgins saying recently that he used to knew how to fix his game, now he just doesn't know how to fix it? That's how I've felt for the last 20 years, whereas before that I used to know how to put things right. Do this, do that and invariably my form would come back. But for about 18 years I just didn't know, I had seen that many coaches and sports psychologists to try and get my game back to what it was and it just hasn't happened.
But since seeing Steve Peters, he has helped my mind so I have been able to allow myself to get my game in better shape and that's probably why I had a good year in 2011/12.
PSB: Do you see yourself as someone who would carry on in the Davis mould, when you are not winning tournaments, would you still get enjoyment from just being around and playing?
RO'S: I don't know really, I'm finding it hard at the moment, but I've found it hard from day one (laughs), that's just how it is for me sometimes, but I'm managing it better now.
I think in some sort of way, it's difficult because you want to win tournaments, I'm still in that mindset that I want to compete, I want to win, but then maybe if I got to the point where in my heart, I knew I wasn't good enough to win and I was getting beat, would I enjoy it a bit more, I don't know and there is no point in me trying to think that when it gets to that point I will give up.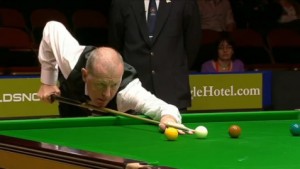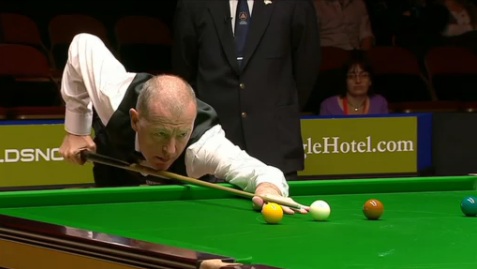 Steve Davis
I might start enjoying it more, not being expected to win and winning and maybe I'll have the attitude of Mitchell Travis, he can't believe he's in the last 32 and his family are up and he's got a nice attitude to the game, he's enjoying it and he's having fun. Someone like me could have that attitude which would be nice and I could play on until I am 60 or 70 like Fred Davis.
But if I'm not enjoying it and I'm finding it a chore, then surely there has to come a point where you think that I have had a good go and maybe it is better for my own sanity that I get in the commentary box and start watching it!
PSB: Do you fancy that?
RO'S: I don't know, I would like to have a trial period at it, see how I go, but I know Jimmy [White] tried it and I am a similar sort of character to him and he couldn't deal with it so maybe I'd be the same.
PSB: Do you think that you would be over-critical and saying what shot you would play and so on?
RO'S: No, because I think that certain players have got a style and a pattern of playing. I would play it a certain way, Hendry would play it a certain way, Higgins and everyone has got their own way and we can all say well Higgins and Hendry probably play it the best way.
But then there are players who have got limitations, some players haven't got the cue-power of a John Higgins or a Judd Trump, so they have got to go a different way about it. There are more than one ways of skinning a cat and some days I'll go that way about it and some days I'll go that way about it, all depending on how am I am feeling.
So I just think that I'd try and be a little bit less critical and also realise that I know how hard this game is. I know that any ball is missable, so when they miss a ball and they go 'ohhhh that's a lack of concentration!' and 'ohhhhhhh he's played that too quick' I'm like no, anything is missable.
I don't like that when commentators say that because I think that you have got it wrong as far as I'm concerned, I listen to them commentate on me and they go 'oh he's missed that because of that' and I think no, I wasn't thinking that at all and I didn't think that I'd rushed it.
I just think, I wouldn't be like that.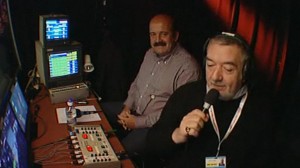 PSB: Yeah I don't know if you have noticed but there is a bit of a Twitter phenomenon with the word 'careless' for that reason…
RO'S: (sighs) – yeah, I mean like ****ing hell careless! We strive all our lives not to be careless, but we're humans and that's snooker and the same as golf with a putt, anything is missable. I don't care who it is, two foot, three foot.
It's a still ball sport and if your arm comes across it or cuts inside that ball, it aint gonna go on that line and it aint gonna get in that hole. If you hit it sweet, then it can go in from a million miles away because it finds that line, holds its line and it's only going in the hole, whereas if you don't hit the ball right, the white deviates and the ball has spin on it and there is so much that can go on with a still ball sport.
I think a lot of commentators, ex-snooker players, don't get it. Some do, but that's why I like people that commentate who have not played snooker. Someone like Clive Everton, the guy from Radio 5 who is now on it [Phil Studd], some of them I will listen to all day because they are less critical and more understanding of the difficulty of the game. I side more with them in many ways!
But then I listen to others and I think '****ing hell man, you are snooker players', you should know. Frame-winning opportunity and there are like 13 reds on the table, he's got some good confidence that guy! (laughs)
PSB: Finally, what ambitions do you still have in snooker, what keeps you going?
RO'S: Just to enjoy it really, I'd like to win another BBC event maybe, like a Masters or this (UK Championship)…
PSB: You have a great record at the Masters don't you?
RO'S: Yeah, I've had like eight finals there and I should have turned a couple of those finals into victories and come up against good players. But yeah, just to compete and do well, to get to 30 ranking events maybe, that would be nice but I don't know, just to enjoy it really.
PSB: Someone said to me that they would like to see you and Selby in the Masters final, to complete a trilogy there! You are in opposite halves…
RO'S: A trilogy, ok, there you go, that would be nice!
And with that, I had taken up more than enough of Ronnie's time and I let him get off to an engagement with the sponsors. Thank you very much to him for his time and for the insight, next up for him will be the German Masters qualifiers this Thursday, with a last 128 match against Thailand's Thepchaiya Un-Nooh at 7pm. Best of luck to Ronnie for the rest of the season.
Let me know what you thought of the interview @prosnookerblog