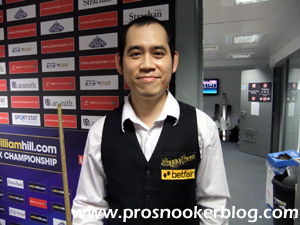 Just four days after Mark Selby made the 100th maximum break in professional snooker at the UK Championship, today saw Thailand's Dechawat Poomjaeng follow suit with 147 number 101 in Barnsley.
Playing in the German Masters qualifiers against amateur Zak Surety today, Dechawat made his first career 147 break during the fourth frame, to take a 3-1 lead at the mid-session interval.
Poomjaeng's effort earns him a bonus of £2,500, while he also went on to claim a 5-3 victory to book his place at the venue stages in Berlin.
The referee was also the first officiated by referee Greg Coniglio, who joins the list of referees to have presided over a maximum in professional snooker.
Click here to view the updated 147s list