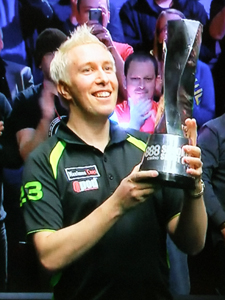 Congratulations to Welshman Dominic Dale, who has tonight defeated Stuart Bingham in the final of the 2014 Shoot Out to capture the title and with it the top prize of £32,000…
Click here to view all of the results from the 2014 Shoot Out
While I had not watched a great deal of the tournament prior to this evening's final session, it was evident from his matches tonight, as well as the reaction on Twitter, that Dominic's rather unique personality rather captured the imagination of the crowd in Blackpool this weekend.
Combined with his infectious enthusiasm and almost disbelief at the fact that he kept winning matches, it made for a nice story and ultimately a popular winner, with the 23rd seed rounding off the post-match interviews with a rendition of 'My Way', reminiscent of his singing of the same song following his victory at the 2007 Shanghai Masters.
Elsewhere this evening, there was a fine break of 101 from Ryan Day to win his quarter-final with Kurt Maflin, the contribution denying Alfie Burden the high break prize of £2,000, while the tournament seems to have seen a number of close finishes this year, Alan McManus in particular losing out in a heart-breaker earlier on in the day.
The Shoot Out is not going to suit everyone and I have made no secret of the fact that it is not my favourite event on the calendar by any means, but it clearly something that a number of the players enjoy and with packed crowds for every session, I see no harm in staging the event once a year.
Especially nice is the chance for the likes of Dominic and previous winners such as Nigel Bond to have their moment winning a trophy on television, while also giving lower ranked players the opportunity to potentially make a name for themselves on SkySports.
Next though will be the start of the venue stages of German Masters in Berlin, with the serious action getting underway this Wednesday, more on that over the next couple of days…