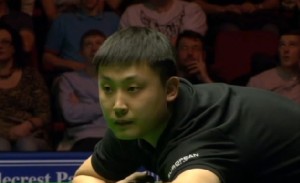 Three days down at the 2014 Players Championship Grand Finals and we have seen the top four players in the rankings, as well as reigning world champion Ronnie O'Sullivan crash out before the quarter-final stages.
Click below for a round-up of the main stories so far…
Click here to view all the results from the 2014 Players Championship (snookerorg)
Click here to view the latest projected seedings list
Click here to view the latest provisional money list
Few neutrals gave world number 48 Yu Delu much hope of defeating reigning world champion Ronnie O'Sullivan this evening at the last 16 stage of this year's Players Championship, but that is exactly what would happen as the Chinese player recorded surely the biggest victory of his career to date.
From the early stages in the match O'Sullivan looked to be out of sorts, a poor safety on the final red in the opener paving the way for an impressive clearance from Yu, while it could have been 2-0 but for a poor positional shot which left him snookered when seemingly in to clear.
Having seen his opponent move back ahead at 2-1 however, O'Sullivan raised his game, a flawless total clearance of 140 seeing him move into the lead for the first time at 3-2.
Though that break might be enough to earn him the tournament high break prize, raising the bar from the previous mark of 136 set previously by Mark Allen, it was not to be enough for victory as Yu hit back to snatch victory. In the decider it had looked as though O'Sullivan might come back from 57-0 down, before a missed red to right-centre signalled the end.
Having enjoyed an impressive début season on the tour back in 2011/12, Yu Delu has struggled to hit the same heights during the past couple of years, but looks to have turned the corner following his recent run to the semi-finals of the AT4 event, as well as victories against Liang Wenbo and now O'Sullivan here in Preston.
Next up for Yu will be a clash with either Barry Hawkins or Ryan Day, who at the time of writing are currently locked at 2-2 in the final match from the last 16 stage currently in progress.
While Ronnie's defeat was undoubtedly the biggest surprise this week, there were also early exits for Neil Robertson and Ding Junhui in the previous round, who lost out to Shaun Murphy and Ben Woollaston respectively. Though both were understood to be suffering from illness during their defeats, nothing should be taken away from their opponents, particularly Woollaston who came back from 3-0 down for a memorable victory.
Neither Ben, nor Shaun will be appearing in the quarter-finals however, as the pair lost out to John Higgins and Judd Trump today in their second matches. Higgins in particular seems to be playing far better at the moment than he has for a while, having described himself a 'last 16 machine' following defeat to Stephen Maguire at the UK Championship back in December.
Elsewhere, perhaps the real story under the radar has been that of Gerard Greene, who has defeated Ricky Walden and today Anthony Hamilton to reach his first ranking event quarter-final since the 2007 Northern Ireland Trophy, where as fate would have it, he lost out to tomorrow's opponent Mark Allen.
Another consequence of Gerard's run is that he also now moves back into the top 64 on the latest prize money list, pushing out Steve Davis who must now win at least one match at the upcoming World Championship qualifiers if he is to retain his place on the main tour for yet another season. More on this will follow in the coming days.
Also through to the last eight are Joe Perry and Marco Fu, two players who perhaps somewhat under the radar have both enjoyed excellent seasons to date, Joe defeating Mark Selby's conqueror Dave Gilbert earlier today, while Marco saw off two-time world champion Mark Williams to progress.
The action continues at Preston tomorrow as the quarter-finals are played to a conclusion, the venue presumably reverting to a one-table set-up, with two sessions of two matches due to be played…