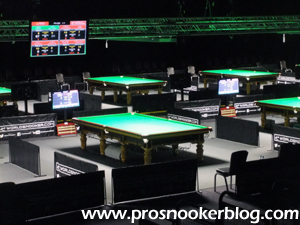 So it begins, tomorrow will see the start of the 2014 World Championship qualifiers and with them, the climax of the race for main tour places, which I have been talking about so much during the past few months.
Though you can view my extended player-by-player guide to tour survival here, this then is the post that will be updated throughout this week's matches, making focusing on those which could prove key to certain players hopes of remaining on the main tour for at least another season…
The full two-year money list which will be updated during the tournament can be found on the link below, but you can also find a running total below which will be updated and players struck out as the tournament progresses to show just who remains in the running for tour survival and who is out of the race.
Players in dark green are currently inside the top 64 provisionally and as it stands will remain on tour
Players in light green are currently on the first year of a two-year tour card and will remain on tour. Included within this list as they may influence the top 64. I have ignored all such players except Gary Wilson and David Morris, who are close enough to the top 64 to realistically be able to break into that bracket and directly affect the battle for tour survival.
Players in blue are currently set to qualify through the European Order of Merit
Players in orange are currently set to qualify through the Asian Order of Merit
Players in red are currently set to be relegated from the tour
Players with their names struck through are out of the World Championship
Latest in-running tour survival battle (two-year money list):
61st – Peter Lines – 50,220 (r64)
62nd – Robbie Williams – 49,375 (r32)
63rd – Luca Brecel – 48,850 (r64)
64th – Jimmy White – 48,692 (r96)
————————————-
65th – Scott Donaldson – 45,213 (r96)
66th – Tian Pengfei – 43,902 (r96)
67th – Sam Baird – 42,993 (r128)
69th – Steve Davis – 42,476 (r128)
70th – Kyren Wilson – 41,752 – (r32)
72nd – Michael Wasley – 40,782 – (r16)
73rd – Ian Burns – 39,537 – (r64)
75th – James Wattana – 36,964 (r128)
76th – Barry Pinches – 35,684 – (r96)
77th – Zhang Anda – 33,978 – (r96)
78th – Craig Steadman – 33,784 – (r64)
80th – Joel Walker – 31,512 – (r96)
81st – Liu Chuang – 31,083 – (r96)
82nd – Paul Davison – 27,601 – (r96)
83rd – Liam Highfield – 26,462 – (r96)
86th – Li Yan – 23,922 – (r48)
87th – Thanawat Tirapongpaiboon – 23,769 – (r96)
88th – Tony Drago – 21,889 – (r128)
89th – Chen Zhe – 22,123 – (r96)
90th – David Grace – 19,974 – (r128)
91st – Adam Duffy – 19,330 – (r128)
92nd – Martin O'Donnell – 17,968 – (r96)
95th – Robin Hull – 15,600 – (r32)
96th – Jamie O'Neill – 14,377 – (r128)
99th – Daniel Wells – 12,263 – (r96)
101st – Michael Leslie – 11,443 – (r128)
102nd – Sean O'Sullivan – 9,209 – (r128)
Last 16 Update
Defeat for Michael Wasley to Dominic Dale means that the race for tour survival is now finally concluded, with Jimmy White hanging on to 64th place at the end of the season.
Although he may well have been eligible for tournaments thanks to changes announced by Barry Hearn this week, by remaining inside the top 64, Jimmy has ensured that he will retain his prize money earned to date for his ranking and for the start of next season at least, will remain among the top 64 seeds for ranking events.
Last 32 Update
Four days into the Crucible stage of the event, the battle for tour survival goes on, following the dramatic 10-9 victory of Michael Wasley against fourth seeded Ding Junhui.
In terms of the rankings battle, the result means that Wasley needs just one more win against either Mark Davis or Dominic Dale, to surge up into the top 64 on the two-year money list and knock Jimmy White out of the all important top 64.
Elsewhere, defeat for Robin Hull on day one means that Tony Drago's place is now definitely secure, while the only other player who could trouble Jimmy in Kyren Wilson, trails Ricky Walden 6-3 overnight, having lost five consecutive frames from 3-1 up.
Round 4 Update
So the World Championship qualifiers are at an end and so too almost is the battle for tour survival – but not quite.
What the final round of results mean is that with his dramatic 10-9 victory against Fergal O'Brien on a re-spotted black to qualify for the Crucible late on Wednesday evening, Robbie Williams climbs a further two places to 62nd in the rankings to all but seal his place inside the top 64 at the end of the season.
For Jimmy White the victory for Williams means that his wait to learn whether he will be on tour next season goes on, as he drops down to 64th and now lies on the brink of falling outside of that all-important bracket.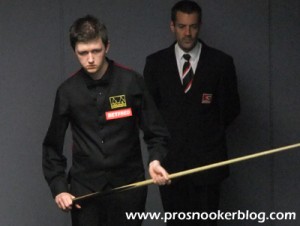 That said, it would still take either a quarter-final run from qualifiers Kyren Wilson or Michael Wasley at the début to edge out the Whirlwind, or a semi-final from Robin Hull, who climbs to 95th in the money list following his win against Peter Ebdon.
Meanwhile, for Tony Drago Williams' victory means that only a quarter-final from Wilson, combined with a semi-final from Hull, would deny the Maltese player another two years on the professional circuit.
Round 3 Update
With the draw now set for the final qualifying round of this year's World Championship, the battle for tour survival has now become clearer still, without yet being set in stone.
Following his terrific comeback from 7-4 down to defeat India's Pankaj Advani this evening, Robbie Williams has moved up into the top 64 on the latest two-year money list, at the expense of Scotland's Scott Donaldson who like Sam Baird will start next season on zero with a two-year tour card.
So what can still change?
As it stands, Tony Drago will be safe, unless one of the players currently outside of the top 64, not qualified through the European Order of Merit, can knock Williams out of the top 64.
In other words, unless Kyren Wilson or Stuart Carrington for example can make the quarter-finals in Sheffield, then Drago will be safe.
Not yet mathematically safe is Jimmy White, who currently in 63rd place, would be overtaken by Robbie Williams, if he can defeat Fergal O'Brien in his final qualifying round match. If Jimmy were knocked down to 64th, he would then have to hope that one of the lower ranked players remaining in the draw is not able to string together a run at the Crucible Theatre.
On balance I would say that the positions now should not change too much between now and the end of the season, but you never quite know…
Round 2 Update
Thursday saw high drama at Ponds Forge as after 36 years, Steve Davis was relegated from the professional circuit following a 10-8 defeat to Craig Steadman.
It was a nail-biting second session as both players struggled to compile any sort of breaks as the pressure grew and at one stage it looked as though Davis was going to complete an unlikely comeback from 9-5 down.
Steadman though played a good 18th frame, a composed 41 break, together with a couple of excellent pots on brown and blue in the circumstances enough to eventually see him over the line and into the third round.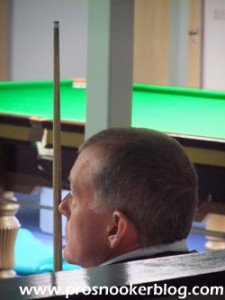 For Steve the result means that he can climb no higher than 68th place on the two-year money system, confirming his relegation. More on that will follow in a separate post.
Elsewhere, relegation (barring Q School), was also confirmed for Zhang Anda, Paul Davison, Liam Highfield, Thanawat Tirapongpaiboon, Martin O'Donnell and Daniel Wells.
In respect of Tony Drago, following defeat for Davis, the only man now who can realistically deny him a place on the tour for next season is Tian Pengfei, who trails Robin Hull 5-4 overnight. If Tian can turn that deficit around, Drago will need both Luca Brecel and Scott Donaldson to win their second round matches today, or an extended run from Robbie Williams, if he is to qualify through the European Order of Merit.
Day Two
A big result on day two was Tian Pengfei's defeat to Finland's Robin Hull, a result that significantly strengthens Tony Drago's position. With the immediate chasers currently set to qualify through the European Order of Merit, it would take a quarter-final run from Craig Steadman at best, if Drago is to be denied a tour card for next season.
Elsewhere, defeats for Jimmy White and Scott Donaldson leave them perilously placed at 63rd and 64th places respectively. One more victory for Robbie Williams would be enough to displace Donaldson (who would then qualify through the European list), while qualification for the venue would also see him move above White. This combined with a last 16 run at the Crucible from Ian Burns would be enough to see Jimmy join Davis in losing his professional place…
Round 1 Update
Following the first round of matches at the 2014 World Championship qualifiers, the overall picture in the race for tour survival has become somewhat clearer, with some surprise exits early on in Sheffield.
Among those immediately chasing a top 64 berth, there were defeats for Sam Baird, Gary Wilson and David Morris, the latter falling to an impressively composed performance from young Swiss talent Alexander Ursenbacher who looked very much like one to watch.
For Gary and David, players on the first year of their two-year tour cards, the result does not affect their tour status, however for Sam it means that he will remain on the tour through the European Order of Merit, granting him two seasons, but also seeing him start again on £0 from next season which will prevent him from climbing the world rankings.
As well as those players, James Wattana was another high profile loser, confirming his relegation from the tour unless he can make it through Q School, while Adam Duffy, Jamie O'Neill, Michael Leslie and Sean O'Sullivan will also need to re-qualify if they are to remain on the tour following their exits.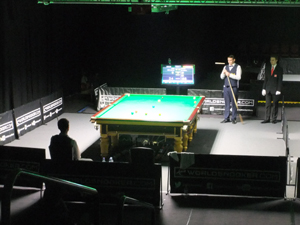 Malta's Tony Drago was another loser yesterday, but thanks to Luca Brecel's 10-8 victory against Lee Page, a result that lifts Luca up into 64th place in the list, Tony sneaks back into position to remain on tour next season through the European list.
So what can change?
There are two players who can break into the top 64 with round two victories in Sheffield, namely Tian Pengfei and Steve Davis, who will play Robin Hull and Craig Steadman respectively. Both matches are must-win for Steve and Tian, who will drop off the tour at the end of the season should they lose.
Currently occupying the final two places in the top 64 are Scott Donaldson and Luca Brecel, both of whom have the luxury of knowing that they will be safe via the European list should they drop out, but will want to stay inside the top 64 and avoid having their rankings effectively reset as will be the case with Sam Baird.
Both remain in the tournament and with a significant jump in prize money from £1,000 to £5,000, will be hoping to win at least one more match to secure their places in the top 64. If they do, then that could bring the likes of Peter Lines and Thepchaiya Un-Nooh into the mix, although they will also be in action during the next two days.
For the many Steve Davis fans out there, as the situation stands, victory against Craig Steadman would put him up into 62nd place, but wins for three of Lines, Donaldson, Brecel or Lines would mean that the six-time world champion would still need a further victory if he is to remain on tour.
For Drago, should one of Brecel or Donaldson drop outside of the top 64, Tony would lose his tour place, while if both were to drop out, then David Grace too would slip out of the top 8 qualifying spots on the European Order of Merit.
Follow @prosnookerblog for all of the latest from the venue as the situation develops