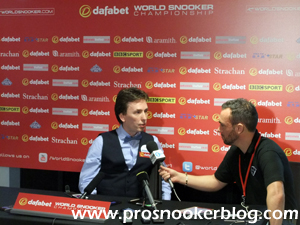 Day two at the Crucible promises to be full of drama, with four matches to be played to a conclusion today and already we have had a shock, with 44-year-old Ken Doherty rolling back the years to complete a seven frame winning streak against world number six Stuart Bingham…
Click here to view all the latest results from the 2014 World Championship
Click here to view the latest provisional money list
Click here to view the latest provisional end of season points list
13:15: Arriving at the Crucible late morning today, following a night of pool at the graduate and magic tricks at the Mercure (Shaun Murphy nowhere to be seen), I was there in time to see that ken Doherty had won the first three frames of the day against Stuart Bingham to lead 7-5.
Stuart had his chances, but watching on the monitors it quickly became apparent that it was not going to be his day. Every time that Ken came to the table he seemed to have an easy starter with the reds spread and to his credit, he took full advantage, eventually running out a 10-5 winner.
Remarkably, the win represents Ken's first at the Crucible since his quarter-final run back in 2006 and during the closing stages of the match, as Stuart made him sweat for snookers, the Irishman was visibly emotional, eventually celebrating with both fists clenched before the Crucible crowd. Former world champions always get a good reception here, just ask Steve Davis, but clearly it was a popular victory for the neutrals in the arena today.
First into the press room was Stuart, a first round loser here for the fourth time in his career and he was clearly disappointed with the way that he had played:
"I was shocking to be fair, I must have made about five 20 breaks. I just couldn't seem to get in the match. Ken has done a number on me. He's a good player, a former world champion, he just stopped me really. But I was poor in every attribute of my game, my safety was poor, I just felt all over the place at certain parts.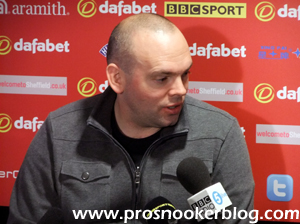 "I probably missed a chance yesterday, I should have been 6-3, maybe 7-2 up with the chances I had but even today I've lost six frames on the trot there and I've had a chance in every frame. I can't put my finger on it, but I'll be back stronger.
"He'll have to improve, I think my mate said that he only went for about two long balls throughout the whole match and that was obviously in yesterday's session, but he didn't need to pot anything over about three feet today because I was just sticking him in the balls. Obviously he is Crafty Ken for a reason, he can get your weaknesses and exploit them. But he'll have to improve probably 20% to have any chance I would say."
And he was soon followed by Ken, who greeted the press room with 'Surprise, surprise!" and invited the inevitable quips, joking that he would have to sort Rob out for describing him as the 'oldest swinger in town' today:
"It was magnificent, it's just fantastic. I was saying to Mick in the dressing room that I was starting to get very emotional, the last couple of frames when I went 9-5 up I started to feel the nerves a little bit. But I was loving every minute of it, but it's great.
"At this stage of my career I am relishing every moment out there. I came here with no real expectations. I knew I was playing well and that anything can happen in sport and I could surprise a few people the way I was playing.
"But at the same time I knew that I was going to be up against it. I just wanted to go out and enjoy it and try to be as relaxed as I could and try and make it hard for him and give it 100% and play good match snooker. I knew that if I won some of the scrappy frames, that when my arm got going and I relaxed a little bit then I could start to produce some breaks. It's just a fantastic feeling to beat Stuart and be in the next round."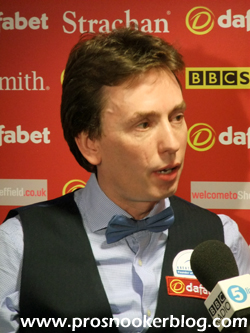 "Every year you come here, you have to relish it and enjoy it. It felt a little bit different because I don't know how many times I am going to be here so I had to try and savour every moment and maybe in a way that has helped to relax me.
"I'm coming here to enjoy myself but I'm not here to make up the numbers. I'm here like everybody else to give their best, this tournament only comes around once a year. I've had a lot of special memories out there and the memories come flooding back to you when you are out in the heat of the battle as well. Sometimes they can inspire you, so I am trying to draw on all that great experience, all the good moments, not the bad ones and just try and stay in the moment and try to be as calm as possible."
19:35: Over on table one this morning meanwhile Joe Perry and Jamie Burnett got underway in their last 32 clash to decide who will play Ronnie O'Sullivan on Thursday evening. It was a close session early on, but it was qualifier Burnett who would earn a 6-3 overnight lead to give himself a real shot of progression tomorrow.
Reaching six frames here at the Crucible for the first time since his debut back in 1996 against Terry Griffiths (remember that in-off?), as well as hitting a break of 94 to record his highest break at the venue so far, he needs four more tomorrow to reach the last 16.
With little time between the morning and afternoon sessions, as if often the case while we have nine frame sessions, I then decided to head on into the arena for the second session of the match between Ali Carter and Xiao Guodong, with a close finish in prospect.
Having had my annual hug from Michaela Tabb en route to the arena, I arrived in good time for the afternoon introductions, Michael Wasley in particularly clearly revelling in the moment as he walked down the steps as a player for the first time in his career.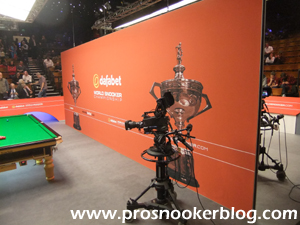 People often ask me on Twitter for the details of the player's walk-on songs, but from the media seats close to the tunnel, as strange as it seems, it is near impossible to even decipher what the walk-on songs are.
As for the match itself, Xiao trailing 4-5 overnight started as clearly the stronger player, his long potting in particular the sharper of the two, seeing him into a 6-5 lead. Credit to Ali though, who used his Crucible experience to steady the ship and by the time he went into the interval back ahead at 7-6, looked to be in control again.
It was at this point that with the other match between Ding Junhui and Michael Wasley also at their mid-session, I had the opportunity to check my phone, referee Eirian Williams asking me if I was tweeting (guilty as charged), and I noticed that Steve Davis had tweeted a photo of his cue from the commentary box behind me.
Naturally I took the opportunity to turn around and take one of the commentary box, only for him to tweet a photo of the back of my head as I stood. It is times like that when the surreality of the blog and the access that World Snooker have again given me this week really hits home!
As the action resumed, the next couple of frames were shared, before what looked like it could be a big 16th frame took place, Carter opening up a 59 point lead, before breaking down and leaving Xiao in with a chance to steal. As Ali sat down and shook his head, it was clear that he full expected his opponent to clear and with a break of 69 he did just that to level again at 8-8.
The real turning point would come in the next frame, as Ali missed a long red into the corner, only for it to jaw and travel across the top cushion and into the adjacent corner pocket. There was the briefest of apologies as Ali raised his hand, but Carter made the most of the fluke with a break of 80 to go back ahead at 9-8, before finishing off the match with a strong 18th frame to avoid become the second seeded player to exit the tournament today.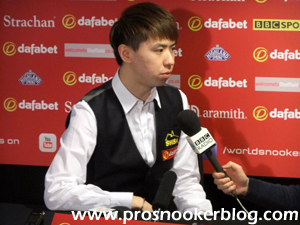 Coming into the press conference shortly afterwards, Xiao took to the chair and as I remember from back at the UK, was apologetic in advance for his English, although there was no reason to be, his English is probably the best of the Chinese players on tour. He explained:
"Ali Carter played very good, the last two frames. I had a chance to go 7-6 but he got to 7-6, everything was very close, never more than two frames. It was a good game.
"Yeah I enjoyed coming here to play because everyone wants to play the World Championship but for me the first time I was not very nervous, I just enjoyed it. Terry [Griffiths] my coach told me not to think too hard, sometimes to just relax and get better."
Rather comically, Xiao was then asked a series of questions by the Chinese journalists, World Snooker press officer Ivan Hirschowitz eventually stepping in to bring an end to the session as Ali Carter waited to get his turn in the hot seat:
"At 4-1 in front there I was cruising, I felt good. I went out there with a gameplan to try and attack and it cost me in the first session really in the end. It looked like I was going to be 7-2 in front and to get out 5-4 in front I felt like I had a result.
"Then today he played well, he played solid, doesn't look at any time like he was under pressure, there was no emotion. there is a lot of pressure out there and that clearance he has done to go 8-8 was massive and all credit to myself for making a good 80 break and playing a granite 18th frame there.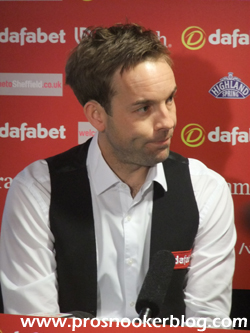 "Every time I was absolutely on the floor I picked myself up and done it but I seem be able to do that, so that's good. Obviously every match you play is touch and to come through a good 10-8 win there against an in-form qualifier, possibly the toughest qualifier I could have faced. I think a few of the boys there tipped that I was going to get done, but sorry you didn't get that right did you!
"I'm delighted to be here, my goal after Christmas was to get myself back in the top 16. I didn't want to have to qualify for the Crucible. I had two trips to China when possibly I did not want to make those trips whether I was up to it or not. I made those trips and done what I needed to do to get my top 16 place so I am delighted to be here and achieve what I set out to do. But now there are new goals being set and I am looking forward to trying to achieve them."
It was interesting to hear Ali speak of Xiao's lack of emotion because from my viewpoint on the 'media seats' I actually thought the opposite. There were a fair few pulled faces and at one point a punch of his leg from Xiao as he ran out of position, but they were generally facing towards me, perhaps so as not to give Ali any encouragement.
Long time readers will know that I have always rated Xiao Guodong highly and it was good to see him do himself justice at the Crucible. There was one shot today in particular that I liked a lot, when he played a red over the right-centre pocket, but covering it with the black ball. Ali could see a red up in the red area, but could not play it without leaving the one to the right-middle on.
Ultimately a few loose shots and some strong play from Carter at the right times was enough to see the two-time former finalist into the last 16 though and if he can improve his long game in particular, he will no doubt stand every chance against either Mark Selby or Michael White when he resumes his tournament on Thursday.
Meanwhile, over on table one, one of the pre-tournament favourites Ding Junhui found himself in a spot of early bother, trailing debutant Michael Wasley 3-2 after the mid-session interval.
Perhaps the turning point came from Ding when after one shot he banged his cue on the floor three times in quick succession, something that gave both Ali Carter and referee Eirian Williams a laugh across the dividing wall as Ali was just about to take his next shot.
From there, Ding snatched the frame to draw level, before hitting a tournament high total clearance of 136 to lead at 4-3. By the time that the Carter-Xiao press conferences had finished, Ding was 6-3 up at the end of the session, no doubt much to his relief, having found himself on the wrong end of upsets before here at the Crucible.
23:32: On to the evening session and two matches that at the start of the session had the look of going close and so it would prove to be the case.
On table one, Shaun Murphy resumed at 4-5 down to Jamie Cope and the first frame of the evening would sum up how the rest of the session would unfold. In pursuit of a maximum break with an early chance, Cope broke down on 64, opening the door for Murphy to counter with 75 to level at 5-5.
The match swung one away and then the other, Murphy's heavier scoring perhaps proving the difference, as he eventually came through in a tense deciding frame. As Jamie Cope came into the press conference however, it soon became clear that unfortunately there had been a recurrence of his well-documented problems with his arm:
"I'm not really too disappointed about the match, I am just disappointed about how I felt tonight really, I just felt the opposite to yesterday. I just couldn't control my arm today, that was all really. I think if I had felt as I had yesterday it would probably have been 10-5 I think, I probably would have won.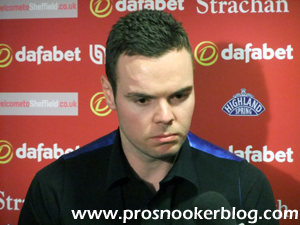 "I felt quite bad all the way through, just jabbing a few balls here and there and rolling because I had no control of my arm.
"There wasn't really much I could do, I just tried to jab a few balls and that is the best that I could do. The past couple of weeks have been a few steps forward and it was just a big step back today. I don't know why, I don't know why I felt the way I did, it was just a bit of a waste of time for me today."
Hopefully Jamie can continue to make progress with the issue and despite the obvious disappointment with what happened this evening, he can build on what remains a positive tournament for him this week.
For Shaun meanwhile, he was just relieved to be through and like Carter earlier, was obviously pleased that his hard work coming into the tournament had paid off when it mattered most:
"If that's what this tournament has got in store for me then I want to go home! All I can say is that I am just glad that I have got one of these in the locker because it is so hard, that first round is like a blood bath.
"I've lost my fair share of deciding frames in this venue, it doesn't get any easier. That match had the smell of a 10-9 from early on. Early tonight he was on a 147 and I think he got a little bit distracted with that and that ultimately cost him the first frame tonight. There were swings and roundabouts all the way through the match. In the end I'm just pleased to get over the line.
"They are the types of matches that as snooker players we all watch, either back home or back in the hotel rooms, I'm sure that Twitter would have been abuzz with snooker affectionados, I would have been watching it myself but to play in and be a part of it is mentally scarring."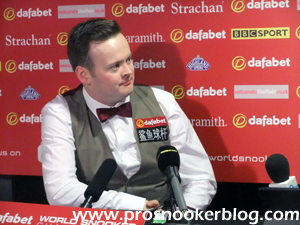 Shaun was asked just how are he was of events on the other side of the wall, where in a night of high drama at the Crucible there was also another deciding frame finish in store. Trailing Ryan Day 6-3 overnight, Stephen Maguire started well to claim the first frame of the second session, but it was Day who continued to hold the upper hand, moving 8-4 and 9-6 clear to leave himself on the brink of victory against the top 16 player.
Back though came Maguire, at one stage firing in 228 points without reply to level at 9-9 and force what was the first decider of this year's championship.
As I noted on Twitter at the time however, Maguire had previously lost four matches in deciding frames at the Crucible, three of them 10-9 and so this would prove to be another, Day playing a positive final frame to clinch victory with 92.
Very quickly into the press area, Stephen was obviously disappointed, but made no excuses for the defeat and said he was pleased at least to now be able to put this season behind him:
"You only hope for one chance and I got my chance second in the balls, never done it and Ryan made a good break there at the end. I wish I'd got beat 10-4 now, I could be in the pub just now!
"Obviously I am going to fight to the death, it's the World [Championship]. When it went to the decider I thought I was favourite. I thought if I got a chance I would do it and I never, so I can't grumble. I got a chance and that was it."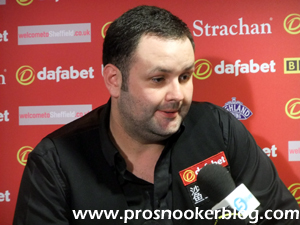 Stephen was also asked whether his reported bad back had played a part:
"No, not at all. A couple of months ago I was struggling but in the last two weeks I was perfect so it was nothing to do with that at all.
"I lost it in the first session because if the session never ended at 6-3 I would have lost 10-4 because I wasn't in it, I was somewhere else. It being the next day gave me the chance to fight back which I did, but I'm actually glad this season has finished, it has been the season from hell for me, just forget it now."
Soon to follow Maguire into the press room was Ryan Day, who had clearly enjoyed being part of what was a memorable match on day two:
"It was a really good game, I enjoyed it all the way to the end. Even though I was 9-6 in front looking for a chance to finish him off, he came back really strong, he played three really good frames. I was surprised how calm I was in the deciding frame. There was a few tricky positional shots but I managed to keep control of the cue ball and my emotional more importantly and finish off.
I hadn't had a hot for pretty much three frames, I was pretty cold but obviously over the moon to finish it off in style. the last time I played here against Ding, I remembered how I felt when I was coming back, can almost feel the pressure switch in the room. I went back in the room and it was quite eerie, it was deadly silent and then Stephen came back and the place erupted and I thought let's go but I played a good last frame.
"I'm going to be heading back home now, I don't play until Saturday and spend some time with the family and chill out with the girls because they are off from school, so yeah, ready to go. I've been up here for a week now so I'll go home and recharge the batteries and get a bit of practice and spend some quality time with the family."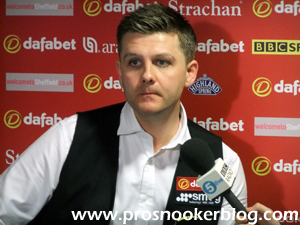 Given the talk of the head to head record between the two players, I asked Ryan whether this had come into his mind at all:
"Yeah loads of that I had been reading but to be honest, there's one year that I beat him in the semi-finals in China which isn't even in there and also Crondon Park, where you are there and you are trying, but they are best of five matches so it had no bearing on me going into the match at all."
Following the conclusion of play and the press room formalities, I headed back to the hotel for an early night, where I made the rookie mistake of turning on the TV to come across Snooker Extra, replaying the morning session between Ken Doherty and Stuart Bingham.
It is a strange feeling watching the tournament on television when you have been at the venue all day, particularly having been backstage and seen first hand what goes on behind the scenes. Also particularly as a fan of Doherty growing up, it was nice to be able to see him looking good at the Crucible once again and with no disrespect intended to Stuart, pleasing to see him win and what it clearly meant to him.
I also enjoyed listening to Steve Davis in the commentary box, who when not taking photographs of the back of my head, I thought did a good job. He has his own unique style and offers something different to the more familiar voices on the BBC team that we have heard during recent seasons.
Onto day three…