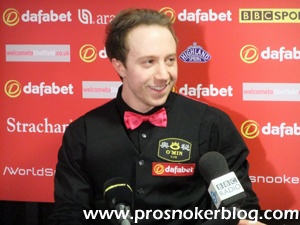 While there might have been a lack of wifi in the media centre yesterday, there was no lack of drama out in the arena as the tournament saw another two deciding frame finishes, including a stunning 10-9 victory for Gloucester's Michael Wasley against one of the pre-tournament favourites, Ding Junhui.
Click below for quotes and stories from day three at the Crucible…
Click here to view all the latest results from the 2014 World Championship
Click here to view the latest provisional money list
Click here to view the latest provisional end of season points list
Following an uncharacteristically early night on Sunday, though not as early as it might have been having succumbed to the lure of Snooker Extra back in the hotel, I headed over to the Crucible as Joe Perry was in the throes of coming back at Jamie Burnett having started 6-3 down.
Ultimately, Burnett would win just one frame during the session, Perry completing a 10-7 victory to progress to the second round and set up a match with defending champion Ronnie O'Sullivan.
First into the press room was Scotland's Burnett, who would give what was a perhaps surprisingly interesting press conference, talking about how ultimately he has fallen out of love with snooker during recent years and touching upon the increased expenses that the players face in order to compete in so many tournaments these days:
"To be honest I don't really bother about snooker, I've lost a lot of enjoyment there for the game, I don't really practice a lot. I come up to tournaments now and be there for a couple of hours a day maybe two or three days before a tournament.
"It's just not the same for me, I'm 38, 39 shortly and I've been doing it for a long time and I have been a bit fed up with it for a few years now. I do get interested when the big tournaments come around like the UK and the World, I try to put a bit more time in. But I don't really put any pressure on myself to do anything to get into the top 32, 48 or whatever it is. I don't really care any more. If I was to drop off the tour it wouldn't make any difference to me. I just play, if I win good, if I get beat then fine, good luck to him.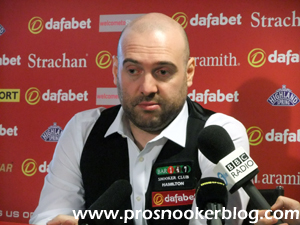 "I think Barry Hearn is good for snooker, he's very good at what he does but it's alright for Barry saying that prize money is a lot better and there are more tournaments, it's also a lot more expensive. You have got loads of flights, you're travelling to China half the season, pay it all yourself. You get there and you need to play a wildcard, you win that and you get no money, if you lose you are out of the tournament and you need to pay it all yourself. Being on the main tour if you are not in the top 16 then it is very tough.
"I'll play for as long as I can, as long as my eyes hold up, if I drop off the tour at some point I will probably jack it in. But I find it hard to enjoy just now. I used to love playing the matches but even that, I am struggling to get up for matches now. Today I should have been really excited, 6-3 up at the World Championship with the chance to play [Ronnie] O'Sullivan in the next round would have been awesome, I wasn't even thinking about that but I was flat right from the start.
"But I was pleased for Joe, he played well, done his job, he was 6-3 behind, he struggled yesterday and he played better today, so good luck to the guy. "
It is easy to say that he was just saying that after a defeat, but I didn't sense that from Jamie and with so many players aged 35-40 currently on the tour, I would be surprised if there are not others who feel the same. Something for another blog perhaps
Soon after Jamie, Joe came into the press area and was understandably pleased with his performance today, noting that he felt a bit more patient today and stuck in there.
With the prospect of Ronnie O'Sullivan awaiting in the next round, the questions soon turned to how he would approach that match and he told us that:
"You don't get any tougher than Ronnie O'Sullivan, but saying that I would have been absolutely gutted to have sat at home watching Jamie play him. At least I'm going to get out there and play him. I have played him so many times, I've played him here, he is just a joy to watch.
"But we've all got to believe that we can win and if we can play at our absolute best and cut out the errors and perhaps he isn't firing on all cylinders, then he is beatable. At the end of the day it is a game of snooker. It's going to be a really tough game of snooker, but it is a game of snooker.
"He's an intimidating character, he's so majestic around the table. He scores breaks so quickly, but if you really want to be critical and analyse every game he plays, somewhere along the line the person he is playing gets a chance to play a better safety shot. If you play perfect snooker then you can win.
Joe was also asked about the importance of getting off to a good start against O'Sullivan, given his reputation as being the best front-runner in the game:
"I think that might have been the case a few years ago. Ronnie has always had the game, he has now got the head to go with it. Once upon a time you could have said to get in front and maybe get him at it, but I think Ronnie's days of getting at it are well behind him."
"I don't want to come here to make the numbers up and just lose to Ronnie O'Sullivan in the second round. I've had a really good season, I've got to the final stages of a lot of events, so I know that on my day I can beat anybody. I've beaten some of the best players in the world this year so I won't be there to just watch Ronnie play, set him up and let everyone cheer him on. I'll be out there to win and if my best isn't good enough then so be it."
Over on table two, Mark Selby was getting his campaign underway against last season's surprise package Michael White, taking an early 5-1 lead before White was able to close to 4-5 by the end of the session.
Following the conclusion of play, I headed out for a walk about the venue on a sunny day at the Crucible, taking particular note of the provisional 2014/15 calendar on display at Tudor Square, which I have not seen published anywhere else today. I will post a bit more detail on this later today, but in the meantime you can click the image below to see an enlarged version of the calendar.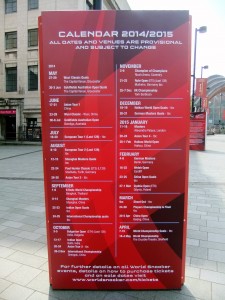 Heading into the Winter Gardens, the set-up is much the same as in previous years, the BBC studio in it's customary spot with a variety of banners on display, for example detailing the record 93 century breaks made this year by Neil Robertson and also inviting fans to vote for their player of the season, with the upcoming end of season awards due to follow this tournament.
The highlight of the afternoon session was poised to be the match between Ding Junhui and Michael Wasley – and boy did it deliver, as Wasley was able to close from 6-3 to 9-8 behind as the players were inevitably called off with time running short ahead of the evening session.
People often ask why this is the case and what exactly the rules are in this situation, as it is something that we tend to see at least once a year at the Crucible and is of course a common sight at qualifying tournaments during the season.
The position is that generally speaking, there is a cut-off time of around about 45 minutes prior to the start of the next session, after which time the match in progress cannot begin another frame. There is flexibility, for example had the scoreline been 9-9 with half an hour to run, they may well have let them play the decider, or had they not got to 8-8 quite so soon, they might have pulled them off early.
As it was, they were forced to take them off at 9-8, not only so as to not affect the preparation of those players expecting to start at 7pm for the evening session, but practically to allow the Crucible staff to turn around the spectators, vacating 980 people from the afternoon to allow those with tickets for the evening to get in. We were notified that Ding's match would not resume until at least 9:30pm, although it would be considerably later before they were able to resume.
Having watched much of Kyren Wilson during his run to the Crucible in qualifying last week, I wanted to be in the arena to see him get underway against Ricky Walden in the evening session, though I was distracted by the amusing sign, attached to the back of the photography booth door over on table two. Ganley, of course referring to tournament director Mike Ganley. Enquiries will have to be made as to who will be tasked with doing the shooting here.
As the match got underway though, it was good to see Kyren make his entrance to the arena, looking confident and this was reflected by the way that he started the match. Ricky himself looked to be playing well, as a tournament high break of 137 during the second frame showed, but Kyren appeared nerveless and took the other three to lead 3-1 at the mid-session interval.
Nothing is ever that easy at the Crucible however and following their resumption, Kyren visibly felt the unique pressure that comes with this place and Walden won five frames in a row to finish 6-3 ahead going into Tuesday's final session. Crucially, Wilson had a black to level at 4-4, but hit it harder than it looked like he needed to and was visibly going through it in his chair during the wait for the next frame to start.
Back in the media room by this point, there was further drama brewing on table two as Michael White fought back from 8-4 down against Mark Selby to force an unlikely deciding frame.
Typically though, it was Selby who would prevail, once again living up to his reputation as the 'master of brinkmanship' to set up what has all the makings of a high-quality last 16 encounter with two-time Crucible finalist Ali Carter.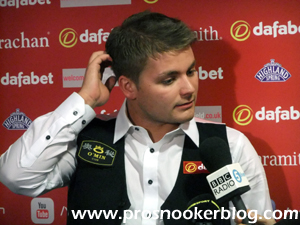 First into the room was Michael, who described himself as feeling 'bitterly disappointed' not to have had a shot in the decider, but was complimentary of Selby as you would expect. He was soon followed by Mark, who joking that it was 'never in doubt' as he walked to the hot seat, told us the following:
"Relief is probably the right word to use but overall I thought that it was a strange game because I thought that I played really well. If you look at the breaks I scored six or seven one-visits of the ten frames that I won, Willie Thorne was just saying to me that Michael was only making 30's and 40's and winning a lot of the scrappy frames, coming out losing only 10-9 so it's strange, but overall I am happy still to be in the tournament.
"All you can ask for in a deciding frame is to have a chance and if you have that chance then great, if you don't then you can't complain.
"I felt really relaxed in the last frame, when I got the chance I felt as though I was relaxed enough to take the visit, as long as I kept in close and didn't have anything too difficult, I would have had to more or less fall over to miss some of the pots where the positional play was and thankfully enough it was like that.
"Michael played fantastic from 8-4, back against the wall he went out all guns blazing and apart from a few balls here and there I didn't really do that much wrong. Every credit to Michael, I thought he played great to come back."
One incident that did grab a lot of attention, both in the arena, in the pressroom and on Twitter came when during the 17th frame, when Selby played what Radio 5's George Riley described as 'the free ball that wasn't' following a foul from White. Having seen Michael fail to hit the yellow, Mark thought that the yellow had been obscured by the pink and that a free ball had been called, choosing therefore to play the pink and put it safe, leaving the cueball in behind the green, rather than having the balls replaced.
As it was however, no free ball had been called and referee Leo Scullion, who correctly did not warn Selby that he was about to commit a foul, duly called a foul, much to the bemusement of Selby, who continued to laugh about it for some time afterwards.
There was some discussion on Twitter as to whether Selby had played the foul deliberately in order to put the pink safe, but Mark told us afterwards:
"I don't know what happened there! I had a blonde moment and came to the table and thought for whatever reason I just assumed that I was snookered on the yellow so I thought it was a free ball. The ref didn't even call a free ball so God knows why I was thinking that. In a way it has probably done me a favour because he still needed the pink after I had put it on the cushion."
Michael White was also asked about the incident and commented:
"Mark thought it was a free ball but obviously it wasn't! I thought he had fouled when he was cueing up on the pink and I thought 'go on hit it, go on quick!' It was quite strange to see Mark do that really."
While Mark and Michael were finishing off, Ding Junhui and Michael Wasley were going back on over on table one, Walden having already gone 6-3 up and the real drama of the evening was still to come.
Trailing 9-8, it was Gloucester qualifier Michael Wasley who was to get off to a flying start, an immaculate break of 103 quickly forcing a decider and leaving ding on the brink of his third last 32 exit here at the Crucible.
Making a last minute decision to head into the arena for the decider, I was there in time to see the action unfold, curtain now raised, which always helps to create a special atmosphere in situations such as these.
What would follow was a deciding frame full of quality, drama, tension, flukes and all of the other ingredients that come from a Crucible classic. Despite the tension and the lack of breaks, it was far from littered with errors as many deciders can be once the pressure takes hold of both players and ultimately it was a fluke to the left-middle from Wasley which would turn the frame in his favour.
That said, the three shots that he played to escape from Ding's snookers laid on the pink, in particular the first, perhaps evened out the fortune that Wasley had earlier benefited from. Soon after it was Michael who potted the final pink, receiving a warm handshake from a disappointed, but notably classy Ding Junhui, before clenching his fist and receiving a terrific roar from the Crucible crowd, no doubt pulling for the underdog.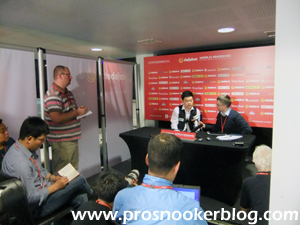 As I followed Wasley down the tunnel and behind the scenes at the Crucible, I saw Wasley talking to a delighted Terry Griffiths, coach at On Q Promotions of course, while I returned to see Ding quickly appear before the press. Contrary to previous years, for example 2012 when I remember that Ding was very upset following defeat at the same stage to Ryan Day, he appeared to be relatively happy this time around:
"I had many chances but didn't take them, but he played brilliant, I feel when I play him it feel like I play Judd in 2011, great potting and great break-building, he is very good under pressure, he is a good player.
"I was a bit surprised, the first session he didn't play like that in the last few frames. He went from 9-8 to 9-9 with a big break to come back, it should be finished earlier, he missed a big position red to the colour ball, I have a few bad luck in the last frame, I tried my best.
"I think that every time I win a tournament, the next I lose first round (laughs), I won the German Masters and Chengdu then I lose first round a few tournaments and then come back to win it. Maybe I win too much!"
To have Ding say that Wasley played as well as Trump during that classic semi-final back in 2011 is the biggest compliment that Michael could receive from anybody and it was good to see Ding smiling and even telling a couple of jokes at the end. No doubt that he will be back.
But it was Wasley's day and following a long press conference between Ding and the Chinese media, Michael was in to reflect on one of the Crucible's great upsets. With a delighted Paul and Sarah Mount among those watching, both delighted to see a win for the man who was On Q Promotions first player, Michael said:
"I feel great, I managed to hold my nerve in the end. I was really nervous but I managed to just put that to the back of my mind, I knew I had a match to win, it was in my hands and I'm just glad I held it together in the end.
"Coming out playing one of the favourites for the tournaments, somebody who has had such a great season and dominated, I was really pleased at 9-9 and in with a chance to win.
"I wouldn't be playing the sport if I didn't think that I could beat anybody and as soon as I had adjusted to the Crucible, I felt I did that straight away, I felt comfortable, it was just down to business and trying to get on with the match.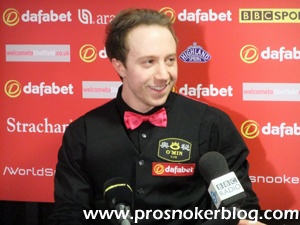 "It will take a good night's sleep to get over that. [the crowd] were great, they really brought me along, it was just great playing in front of them and performing. I just want to do it all over again tomorrow!
"I used all my previous experiences to try and deal with the pressure. For me Q School is one of the biggest pressures that I have played in, to make your dream come true of becoming a professional snooker player and then it is the next stage. So for me Q School has taught me a lot about the pressure and really helped me."
I asked Michael a couple of questions, both about he felt as Ding was laying the snookers on the pink at the end of the match and also what Ding said to him at the end of the match.
"Oh three fantastic snookers and the first one was the most difficult so I contemplated a few different routes. I just went with my gut instincts, I am normally pretty good with my angles so I just trusted it and managed to escape that. Yeah, I thought that I was going to be in a snooker every shot!"
"He said that I played really well, he congratulated me, he's a really nice guy. He knows the pressures of coming to the Crucible on your debut and I played well today, I feel I deserved to win and held it together."