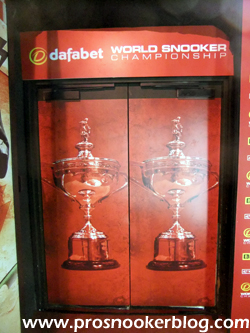 Day four at the Crucible, and following yesterday's shock win for Michael Wasley against Ding Junhui, the action continued as Alan McManus completed a terrific victory against John Higgins, while Judd Trump and Barry Hawkins also got their campaigns underway…
Click here to view all the latest results from the 2014 World Championship
Click here to view the latest provisional money list
Click here to view the latest provisional end of season points list
I began the day following the action between John Higgins and Alan McManus from my Travelodge hotel room, Alan taking the first two of the day to extend his lead to 8-3, before they shared the next two to go into the interval with the score poised at 9-4.
Aside from the action however, perhaps what was most memorable from the morning viewing what the amount of times that commentator Dennis Taylor referred to Alan by his nickname of 'Angles', perhaps an angles swear box will be required in the commentary box for his next match.
To his credit John showed glimpses of why he is a four-time champion here, coming back at Alan to close the gap to 9-7, before McManus pounced on a missed blue in the next to seal his first win at the Crucible in nine years.
Heading to the press area, the mood of Higgins was not expected to be good, indeed I was here for his interviews following defeats to Stephen Hendry and Mark Davis in the last couple of years and after both he cut a disconsolate figure, devoid of confidence and wondering where his career would go next.
Today however it was a very different story, Higgins appeared to be in good spirits as he explained below:
"I was feeling pretty good and I fancied if I had made it 9-8 then who knows, but all credit to Alan, he played really well. He did everything that is expected of him. He maybe doesn't hit as high breaks as he used to but his tactical play around the table and everything round the table, full credit to him, he played really good and basically froze me out.
"I felt that there there was something inside that I could have come back into it, I'm hitting the ball well. I have played here and been well down and you just want to get out of the arena, but out there I knew I've got some decent form inside me and I just couldn't really bring it out in the early part of the match.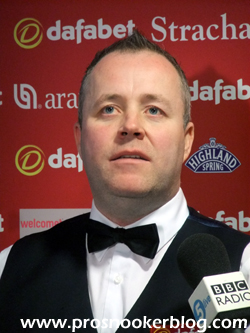 "All credit to Alan, I've got a lot of respect for Alan because I wouldn't be the player that I was if it wasn't for the likes of training with Alan when I was younger. Great respect for him because he has been in the wilderness for the last couple of years and I think obviously the way the new system is it helps the likes of Alan, because he has been at the venues and he likes the bigger stage, but he was maybe struggling at the qualifying cubicles which was maybe hard for him.
"It's been bad but I'm a lot happier this year than when I was sitting here last year when I lost to Mark Davis. I can see signs, I don't know what these signs are but I think I'm playing better than I was playing the last year or two so that's maybe the crumb of comfort that I can take. Still disappointing losing obviously.
"I feel as if there is something there that I can work on, there have been times that I have sat here desolate and like there is nothing at the end of the tunnel but I definitely think that I have got some decent snooker left in me. Now, I'm maybe not one of the top players that you think is challenging for every event, I'm possibly a journeyman top 16 player now but journeymen can obviously have their days sometimes!"
Soon afterwards, Higgins was followed into the press area by compatriot McManus, who was unsurprisingly quizzed about his tartan trousers, before offering some interesting insight as to the role that the older players such as himself still have to play in the game:
"I scraped over the line at the end. I said to my pal at the break that John is going to come on strong here because that's what he does and I'm going to have to put this away fairly quickly. When he started coming back it's no surprise, if John starts relaxing and putting his arm through the white the way he can do it is like taming a lion at times.
"I was on my guard, but I did stay calm, through experience I thought ok, patience was the word I was thinking about when I was down in my chair. Just be patient, the chance will come and I've just got to take it. Unfortunately it took me three or four chances but I got there in the end!
"Any time for me even just to practice with John is a thrill quite frankly, I hold him in such high esteem as a guy, as a player and as a legend of the sport. To play him here was a real special thing for me, to win is a bonus. I just want to go out there, play and compete and if I can compete with John I'll be quite happy.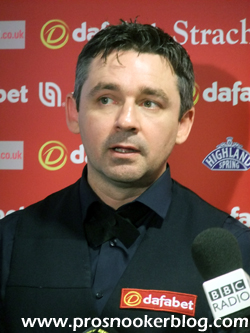 Next up for Alan will be a match with Ken Doherty, a repeat of their last 16 match here at the Crucible back in 2005, which before today represented the last time that Alan had won a match here at the venue:
"I'm pleased for Ken, we both probably play a similar type of game, I like the way he plays, I've always enjoyed watching him, he did really well at qualifying last week as well, we both kinda have similar stories coming through because he was like 4-2 behind and I was a few behind in one match and managed to knuckle down and get through and we have both produced a decent performance to match up in the last 16 now. I'm sure it will be a good match, I can't wait.
"Ken, he put the match [against Stuart Bingham] away in fine style and from 3-0 down very few guys would have probably given him a shout, but he came through in the end fairly comfortably. Obviously Stuart didn't perform but Ken done his job and every credit to him. I'll look forward to playing Ken, I think it will be a nice atmosphere out there.
Alan was also asked by press room regular Neil Goulding as to what victories for him and Ken said for the over 40's still competing in the game:
"To be honest I've thought for a few years now, the old guard, those 35 and over, they're still holding quite a big chunk of the top 16, top 32. I think that there is still plenty of room for guys at the age of 40 to compete at the higher level of the game.
I also think personally, the older players for me have stolen a march on today's young brigade in that today's world isn't good for young people in snooker terms, because they spend all their time on Facebook and it's killing their snooker. I've seen it and I do see it and they are too busy reading and writing about snooker instead of getting their nut down and doing what they should be doing, practising hard.
"I think the young guys, not all of them, but some of them, are taking their eye off the ball and spending too much time on the internet and they should be practising hard. You've got the Mark Davis' the Dominics [Dale], that's up to the young guys to do the right thing and get practising.
"Obviously you have got a few, Judd is an awesome player but as I say the older guys can hang in there. I also thing they have a dedication which most young guys don't have, I still practice really hard and a lot of young guys I see don't practice, so go figure."
From there, eyes turned to the two afternoon matches, which unusually for this first week saw two matches just getting underway with their first session, Judd Trump and David Gilbert the seeds involved.
Still catching up on yesterday's action (see my day three diary here), I powered on through with updating the blog, while Dave Gilbert in particular made a strong start against against his seeded opponent, at one stage leading 4-2.
In both matches however it was the seed who would turn things around, Trump winning four in a row, albeit with a top break of just 40, while Hawkins took the last three with breaks of 115, 72 and 69 to take a 5-4 lead into tomorrow evening's session.
Away from the table a number of you have been enquiring as to what the latest position is with format changes and wildcards, which were mentioned by Barry Hearn earlier in the week. The state of play is that today there was a board meeting at World Snooker level at which such issues were due to be raised, with a press conference scheduled for 2pm tomorrow from Barry to reveal all.
More immediately however, we had another two matches to play in the evening as Mark Allen took on Michael Holt, while Ricky Walden resumed 6-3 up on debutant Kyren Wilson and looking to wrap up victory.
Having not been in the arena for the first couple of sessions, I headed on in to watch Mark and Michael, a match that would almost immediately become one characterised by the banter and good spirit between the two players. Following his opening shot, Jan Verhaas appeared from the side-curtain to hand Michael his chalk, which he soon informed the crowd that he had forgotten to bring out with him. Rather amusingly, Mark replied with a smile on his face that there are opponents who would have him docked a frame for that, presumably referring to the infamous 'chalkgate' incident involving Shaun Murphy previously.
Staying for the first four frames, it was a difficult started for both players, who generally scored well to finish the frames, but missed a few balls each before then. In particular Allen's long game looked to have deserted him early on, while Michael at one stage gave 36 points away when attempting to escape from a snooker, at one stage reminding the crowd in jest that he is a good player really!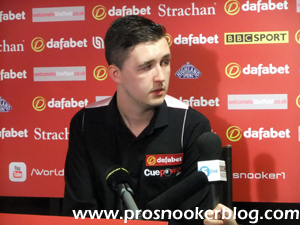 As it happened, Holt won that frame on his way to a 2-2 interval lead, which he would take to 4-3 and in with a terrific chance to move two clear for the first time at 5-3. A missed brown on 52 however would prove to be a turning point in the session, clearing the way for an Allen clearance of 42, before he added the next to lead 5-4 overnight.
Over on the other side of the curtain, Ricky Walden started strongly, extending his lead to 8-4 before Kyren began to relax and show what he can do, closing the gap to 8-7 at one stage.
Ricky though was not to be denied, adding the next before then wrapping up victory following a remarkable 74 minute 17th frame, just one short of the all-time record set between Stephen Maguire and Mark King back in 2009.
First up into the press room was Kyren, who said:
"It was an up and down game all the way through. I started well to go 3-1 up, I think I was too relaxed in the first session and I didn't expect it and I just relaxed too much coming out after the mid-session interval after the first four frames and Ricky punished me for that.
"But the second session I got myself really up for it. I was really nervous for the second session which was a nice feeling because I think I played my better stuff. It's so tough out there to produce the goods but Ricky held himself together well and it's just a shame for me that I didn't really play that well to be honest.
"I was 8-4 down and I made a couple of good breaks, 50's, 60's something like that. I was proud of myself, it's hard to make a game of it, I didn't want to lose the first little session 4-0 and be out of the game completely so I was glad to give the crowd a little bit of their money's worth so it was a little bit better.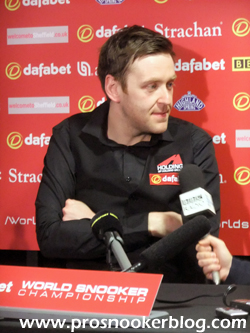 Kyren was also told of how close the final frame came to breaking the record, something that shocked him…
"You're joking?! I'm gutted now, I wish I had got the record. It was a mad frame, probably the maddest frame I have ever played. It looked like I had no chance and all of a sudden like I had every chance. It was so strange, Ricky missed a few towards the end, he had a few chances, I felt like if I got my chance I was going to take it, but they were always iffy, they were never perfect and there was always a little problem, but in the end Ricky held himself together well.
"It's a show, people play good money to watch us play, I want to put on a show and entertain people, if that means me making a tit of myself then so be it, but I enjoyed myself, it's my debut, hopefully I'll be here a lot more.
"It's not as daunting as it looks on TV. I was so nervous and so scared coming in. I settled really well which I'm really pleased with, I think I'm going to do well here in the future. I've loved every single minute of it, the attention, the crowd, the buzz all my family and friends have got, I've loved every single minute."
Soon afterwards, in came Ricky who added:
"It was quite enjoyable at times to be fair, none of us were potting a ball towards the end but I was quite enjoying myself out there, it was a tricky frame to come through and I was glad I did.
"Kyren's a very good player, I've never really seen him play but from what I've seen of him in the match he is going to be around for many years. I am just pleased to be in the next round.
"You want to finish the job off as quickly as you can but I was just waiting for my chance and I didn't convert a few chances which was disappointing but I just stayed positive and eventually got over the line so I'm just pleased the way I dealt with it at the end.
"Everyone is strong at the moment, everyone is playing that much tournament snooker, everyone is strong and putting in real good performances. He obviously beat a friend of mine in qualifying in Rod Lawler and then put away Graeme Dott a former world champion, so I knew it was going to be a tough, tough game and it was exactly that."