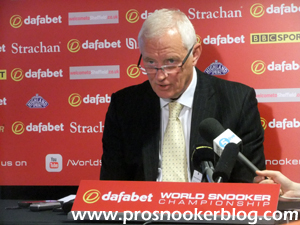 It is semi-final Thursday here at the Crucible and Barry Hearn has today taken the opportunity to stage his second press conference of the 2014 World Championship, confirming a new five-year deal for ITV4, including the return of the Grand Prix next March.
Hearn also confirmed the selection criteria for next season's Champion of Champions, as well as the movement of the World Seniors Championship and Shoot Out to March 2015.
Barry Hearn statement:
I think we are enjoying a rather sensational World Snooker Championship. I think we say it every year but it seems to me to be getting better and better and certainly the figures are justifying that as well.
There are just a few things to announce today. Firstly in the light of the success that we are experiencing with snooker globally, it is reassuring to know that they have not forgotten about us as home as well, so I am delighted to announce a new five-year deal with ITV4 for both the continuation of the Champion of Champions, which was previously just a one-year deal, but did absolutely sensational figures, so clearly ITV4 have made a very good move, congratulations to them.
But also such is their appetite, they have come in for another tournament, which will be called the World Grand Prix, a name from the past with a different type of tournament. This tournament will take place between 16-22 March 2015, televised every ball live by ITV, we are just working on the venue at the moment, but the basis and criteria for selection will be interesting a unique event.
It will be the top 32 players on a one-year prize money ranking system beginning from the start of this World Championship, so there are a few players who will be rubbing their hands together because they have made a rather good start to get into the top 32. There will be a £100,000 first prize, a £300,000+ tournament and obviously it will be a valuable addition to our free-to-air coverage in the UK.
I've got a list of the Champion of Champions criteria this year for you, because the Champion of Champions, which will run 3-9 November 2014 at the Ricoh Arena, again with £100,000 first prize, will be restricted this year to, hopefully, as long as we don't run out of spots, actual winners, rather than going off the ranking list and the way we are doing that, goes through all the major winners, but includes also the winners of European Tour events, the winners of Asian Tour events.
Should they need topping up to make 16 players, we'll go onto the Six Reds, the Shoot Out and even the World Seniors. it really will be a Champion of Champions spread across the various tournaments. So far I think we have got eight of the 16 and a few to be confirmed.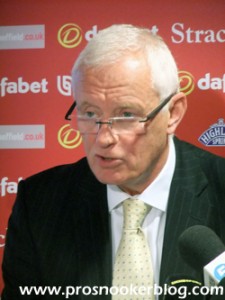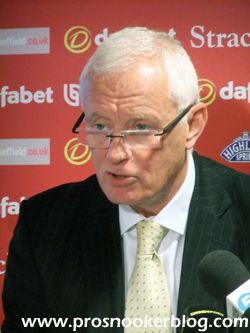 I'm very happy obviously with the fact that we are getting some additional recognition in the UK through ITV4. Interestingly enough, even on Sky, who have not been the biggest supporters of snooker over the past few years, the Seniors and the Shoot Out will be back to back on Sky this year to make it a Sky Snooker week, 2-6 March 2015 at the Blackpool Tower Circus arena and I think that will be another valuable addition.
Without being complacent, which I know is not my strong point, with ITV coming in for five years, Sky happy with their snooker week, with the Eurosport figures running at times 50% higher than previous years, we are in a very, very strong position.
The tournament as far as the BBC is concerned, has also performed admirably well. So far over 19 million viewers have tuned in. Our average audience is 5% up year on year and our total audience so far is over 2 million more than this time last year. Now, I appreciate that Ronnie O'Sullivan is a huge ratings driver but this goes beyond one player which pleases me even more.
I do have to say that I have had obviously a lot of comments about the BBC coverage and leaving matches at crucial stages and whilst I understand that there are occasionally certain things beyond our control, I can just reassure snooker fans that this has not gone unnoticed and there will be some serious conversations with our colleagues at the BBC going forward.
Clearly we have given them a global event and they have been wonderful ambassadors for us and supporters of snooker, but we do have requirements of how an event of this stature should be treated by our host broadcaster and I am sure you will get the flavour of what I am talking about. So we'll go back to the BBC and make sure that we maintain the excellent level of coverage that we insist upon. They have already shown several hours more this year than they did last year and that is a trend that is continuing and as I say the audience figures are satisfactorily increasing at a level that I am very pleased to see.
I think that snooker has bottomed out over the last few years and we are now back on the road to success and the BBC figures seem to justify that.
Eurosport are attracting record audiences throughout this event, reaching 120 million viewers throughout Europe and of course despite the absence of Chinese players we are still hearing about some record figures coming out of China as well, so good news for all of us. The provisional calendar for the year is up and will be continually updated and we hope very much to be in a position quite soon to give you more information of even more events.
There was just one question today, coming from me as to whether the Grand Prix would be a ranking event or not.
BH: The Grand Prix will not be a ranking event.
There's a balance between this, as we said at the last press conference, moving closer and closer towards to a flat 128 draw and I know that some of the top 16 disagree with me because as they quite rightly say, every player is eligible to play in all these events that form, but it gives a disproportionate advantage to those that have already won substantial ranking prize money by winning those events to start with, like the Champion of Champions and the top 32 on the Grand Prix, that to give them an additional reward by that prize money counting, a restrictive formula, I think is an unfair advantage to them.
So I am asking the top 16 to constantly justify their top 16 rating, I want to put them under pressure. I think over the next 12 months we are going to see a huge amount of changes because of the ranking points being decided by money and I welcome that.
I think we need stories, you guys need stories to write about and there is no better story than an unknown coming through and emerging up the ranks and we have seen a couple of them at the World Championship, I'm sure we will hear a lot more going forward so the Champion of Champions, the World Grand Prix, the Masters, the top 16 have to look on those as their reward for excellence, but not as an additional ranking advantage.