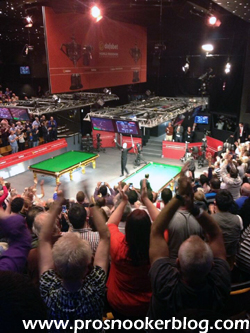 Congratulations to Neil Robertson yesterday, who with a break of 101 finally completed his quest for his 100th century break of the season, a fantastic achievement and one that both seeing his celebration up close and listening to him in his post-match press conference, clearly meant the world to him.
But how exactly has he done it? Click below for a full breakdown of all 100 century breaks…
Perhaps as he started with a 147 back at the Wuxi Classic qualifiers last June we should have known that something special was coming from Neil Robertson this season, but who would have predicted then that he would go on to make a historic 100 century breaks during a single season, smashing the previous record of 61 set by Judd Trump just last season.
To put into context just how he has managed to achieve the feat and how consistent he has been over the course of the 2013/14 season, here is a breakdown of just how he has done it, who against and what all 100 breaks have been:
Wuxi Classic Qualifiers – 2

Mohamed Khairy – 147, 121
Bulgarian Open – 7
Anthony Hamilton – 142
Kurt Maflin – 131
Mike Dunn – 115
Jimmy Robertson -111, 105
Barry Hawkins – 106, 105
Wuxi Classic – 2
John Higgins – 113
Mark King – 111
Australian Goldfields Open – 5
Mark Selby – 138
Joe Perry – 125, 111, 102
Marcus Campbell – 102
Shanghai Masters – 2
Wang Yuchen – 122
Ding Junhui – 104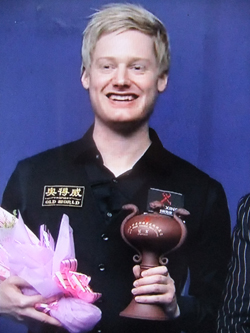 International Championship qualifiers – 4
Li Hang – 140, 136, 107, 105
Ruhr Open – 6
Ahmed Saif – 108, 105, 100, 100
Robert Milkins – 103, 100
Indian Open – 5
Ding Junhui – 104
Noppon Saengkham – 103, 103, 103
Liang Wenbo – 100
International Championship – 6
Thapchaiya Un-Nooh – 143, 100, 100
Alex Davies – 128, 100
Peter Ebdon – 117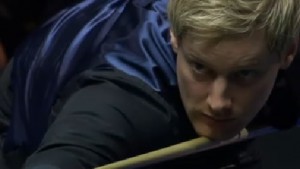 Kay Suzanne Memorial Cup – 5
Ronnie O'Sullivan – 135
Fraser Patrick – 110
Mark Allen – 110
Marco Fu – 108, 105
Champion of Champions – 6
Martin Gould – 129, 112
Ronnie O'Sullivan – 125
Ali Carter – 119, 113, 105
UK Championship – 8
Li Hang – 141
Mark Selby – 132, 123, 122
Stephen Maguire – 128
Robbie Williams – 119
Joe Perry – 111
Dylan Mitchell – 107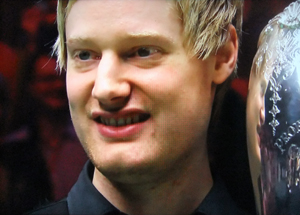 German Masters qualifiers – 1
Ian Burns – 111
Haikou World Open qualifiers – 1
Alexander Ursenbacher – 105
Championship League Group 2 – 5
Joe Perry – 144, 137, 131, 129
Ali Carter – 134
Masters – 1
Mark Allen – 101
Championship League Group 3 – 4

Ryan Day – 124, 119, 109
Judd Trump – 118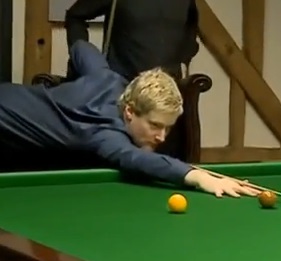 Championship League Group 4 – 7

Shaun Murphy – 141, 133, 107
Ryan Day – 137, 103
Mark Selby – 102
Matthew Stevens – 102
German Masters – 1
Liu Chaung – 124
Gdynia Open – 2
Alan McManus – 112, 100
Championship League Group 5 – 6
Mark Selby – 135, 104
Marco Fu – 128
Ryan Day – 127, 117
Dominic Dale – 101
Welsh Open – 2
Mark Williams – 112
Rory McLeod – 104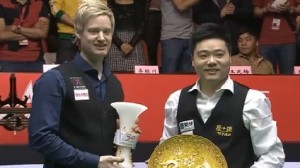 Haikou World Open – 4
Marco Fu – 127
Rory McLeod – 116, 111
Jamie Jones – 100
China Open – 1
Ding Junhui – 102
World Championship – 7
Robbie Williams – 140, 132, 103, 102
Mark Allen – 137, 100
Judd Trump – 101