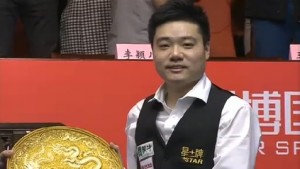 When it was first announced that World Snooker would move away from the traditional tiered format of events a couple of years ago, the concern amongst some was that it could lead to a situation where big names might crash out of tournaments at the qualifying stages, resulting in venues and broadcasters being left without their big names.
Click here to view my previous post, Flat Draws and Fairness, a Look Ahead to Snooker's New Dawn (Feb 2013)
During 2013/14, this did not come to pass to any great extent, but already part-way into the following season, we have seen Ding Junhui miss out on both his home event at the Wuxi Classic, as well as the International Championship where he was defending champion, while world champion Mark Selby and Liang Wenbo were other high profile absentees at the Chengdu event.
Earlier on Twitter, one member of the snooker community @mics147 explained (below) that this month's Snooker Scene has reported that the 2015 China Open will now see matches involving Ding and Selby held over to the venue, to ensure that this will not happen in Beijing:
This month's Snooker Scene reports that the 2015 China Open last 128 matches of Ding, Selby and 2 more Chinese will be held over to Beijing.

— mics147 (@mics147) November 6, 2014
Players losing in these held-over matches will get 2,000 pounds for the traveling which, of course, doesn't count towards the rankings. — mics147 (@mics147) November 6, 2014
So @WorldSnooker1 reacts to Ding's two defeats in qualifiers and ensures him a place in his home events. Good or bad? — mics147 (@mics147) November 6, 2014
It is a move that alongside the fact that three full-ranking events have not yet converted to a flat 128 format, arguably represents if not a u-turn, then a deviation from the policy aimed to promote fairness and give every player the same opportunity, at the expense of guaranteeing the appearance of top ranked players at venues for the benefit of TV broadcasters.
The debate generated by the above tweets was one that I would have been proud of, with players and Barry Hearn commenting as follows:
@couge0102 Commercial reality. — Barry Hearn (@BarryHearn) November 6, 2014
@WorldSnooker1 just admit you made a huge mistake, wipe ur mouth and go back to the old system!! Fairer for everyone! — Joe Perry (@joegentlemanjoe) November 6, 2014
Let's get it right we gave @BarryHearn 51% and the game,deal with it and stop bitching people's,you knew the script when you voted. — mark king (@markking147) November 6, 2014
@joegentlemanjoe @BarryHearn @couge0102 Players were told that we were going to a flat drawer for "commercial reasons" #didntwork — Michael Holt (@hitmanholt) November 6, 2014
@hitmanholt @joegentlemanjoe @couge0102 Not really – it is the fairest system. — Barry Hearn (@BarryHearn) November 6, 2014
@BarryHearn @hitmanholt @couge0102 if applied to all comps and all players treated equally. That isn't the case at the moment. — Joe Perry (@joegentlemanjoe) November 6, 2014
@joegentlemanjoe @BarryHearn @hitmanholt @couge0102 just hurry up and get 128 at every venue, then its done and dusted, no one can moan then — Mark Williams MBE (@markwil147) November 6, 2014
@BarryHearn when is the next players meeting? Some serious questions need answering. — Joe Perry (@joegentlemanjoe) November 6, 2014
@joegentlemanjoe @BarryHearn what's the point?? Barry will listen then do it his way anyway!! Have to just get on with it im afraid — Mark Allen (@pistol147) November 6, 2014
@pistol147 @joegentlemanjoe So true. — Barry Hearn (@BarryHearn) November 6, 2014
Clearly then, there are strong views on this news amongst some of snooker's professionals and I can understand why, given the quotes that came from Barry Hearn prior to the introduction of the flat draw format 18 months ago.
It is interesting though to look back at my detailed analysis of this issue following the initial announcement in February 2013, when I considered the issue of held over matches as raised at the time by Mark Williams, together with quotes from Hearn and also WPBSA Chairman Jason Ferguson at the time.
In particular the words of Ferguson, who I quoted from Snooker Island as follows:
"So in principle that is what it is. It's quite basic and it has to be the fairest system of all. I think the situation is though that there are going to be times where let's say we have a new event in India. The likelihood is that we will want to hold over two of those matches for the Indian players. And I'm sure that that will eventually happen in China as well where they will want to hold over some of their best matches for the final stages. So we'll certainly have to accommodate for a few extra matches at the venue."
"Some of the players to be fair are raising concerns over that and asking whether it's fair or not because it's possible you could get the seeds in round 2 always playing at the venue. That is certainly a concern of mine as well, I think there are some issues there which we'll need to iron out. But the bottom line is that the players who win more matches will go to the top and the players who lose will fall by the wayside."
18 months on, this is exactly what has come to pass and in particular given the results involving the likes of Ding and Selby so far this season, it is not too surprising to see that World Snooker have reacted in this way.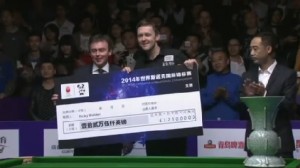 While there will be legitimate questions raised of the fairness or otherwise of the decision to hold over particular matches to the venue stages of events, I can't help but feel that from a commercial perspective at least, the decision to hold over matches is one that makes sense and it is probably safe to assume that broadcasters in Beijing were keen to avoid another premature exit for their number one player..
As some have suggested, does this mean that we are now going round in circles, with a return to matches being held over to venues as we have seen on many occasions in the past for overseas events?
For me that would be an overstatement. Tournaments will still be played under a flat 128 format and the amount of matches that each player will be required to win in order to lift the title will be the same, as opposed to under the tiered structure.
But for those players who will see their matches held over, there will clearly be an advantage, which as Mark Williams points out will only be eradicated with all 128 players beginning at the venue, as in York at the UK Championship for example.
Given the costs implications that would involve for players in the lower half of the rankings though, that would open up another can of worms entirely…