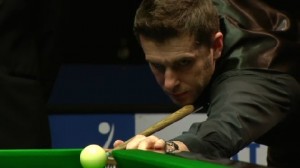 Following his victory at last weekend's German Masters, Mark Selby regained the official number one ranking for the third time this season and the sixth time during his career to date.
Already, we have seen the number one ranking change hands on a number of occasions during 2015, with Selby, Neil Robertson and Ding Junhui all having occupied top spot in the last month, but are we now at a point where there too many changes? Has holding on to the top ranking lost some of its prestige?
Since the creation of the official world rankings back in 1975, there have been 11 players who have been able to claim the world number ranking, with the top spot changing hands on no fewer than 28 occasions between them.
Interestingly however, 16 of those changes have occurred during the past five years and six this season alone, leading to accusations that the top ranking no longer carries the same level of prestige as it once did.
Why the increase in changes?
The answer is of course an easy one, as until May 2010, the official world ranking list was updated only once a season, with whoever was able to end the season as number one therefore guaranteed to remain there for a full 12 months.
That was all to change at the end of the 2009/10 season however, as Barry Hearn was to introduce a new 'rolling' ranking system, updated after every event with seeding cut-offs to be implemented across the course of each season.
This would appear to have been further exacerbated by the introduction of a prize money based ranking system, as opposed to the previous points system.
The Effect
Including the first ever mid-season change of number one in September 2010, when Australia's Neil Robertson was able to leapfrog John Higgins with his victory at the World Open, the world number one ranking would change hands on ten occasions during the next four years, more often than we were used to, but there were still relatively long periods where one player was able to hold top spot.
For example Mark Selby was to remain number one for 420 days between September 2011 and November 2012, while Robertson was top for 330 days last season, only knocked off by Selby's victory against him at the Crucible in May.
Since then however, there have been a further six changes this season alone following the introduction of a prize money based system, resulting in oddities such as Ding Junhui having taken over top spot for just one week in December, before a slightly longer two week period this year before he was replaced by Selby earlier this week.
To put that into perspective, since the introduction of rolling rankings less than five years ago, we have now seen 16 changes to the number one ranking, compared to just 12 during the previous 35 years.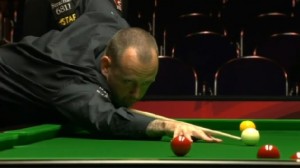 Does it matter?
It is an interesting question and one that has seen players such as Mark Williams comment on Twitter about the number of changes to the number one ranking, with others saying that being number one has lost some of its prestige as a result.
That may be true, particularly for players such as Selby who have been ranked number one on more than one occasion, but I still think that it is nice for a player to see their name at the top of the ranking list. In truth, the top ranking has never really carried with it a real practical benefit, in terms of seeding or entry rights, it has always been a nice 'extra' for a player and to that end nothing has changed.
Other sports – a comparison
To further put into context the question as to whether there is a problem with the current system, it is worth looking at some of the other individual sports that also operate an official ranking list.
To do so, I will compare how many changes there have been to the number one ranking in those sports, relative to the 16 changes in snooker since May 2010.
Men's tennis
With its rankings having consistently operated on a rolling, one-year, points-based ranking list for a number of years, there have been six changes in men's tennis during the same period, Rafael Nadal and Novak Djokovic having largely locked out top spot save for a 17 week stint for Roger Federer in 2012.
Women's tennis
Also operating a one year ranking system, women's tennis has seen seven changes to the number one ranking during the same period, current number one Serena Williams in the midst of a 104 week unbroken run. Interestingly however, like Ding in snooker, Kim Clijsters was ranked number one for just a single week in February 2011.
PDC Darts
The story in PDC darts is very different, with there having been just one change to the top of the order of Merit, Michael van Gerwen having overtaken the sport's long time dominant player Phil Taylor a few years ago. Like snooker, this Barry Hearn controlled sport runs a two-year ranking system based upon prize money won.
World Golf Rankings
Interestingly, the closest sport to snooker in terms of recent ranking changes is men's golf, which has seen 14 changes to the top of the Official World Golf ranking during the same period, with five stints of four weeks or less in 2012.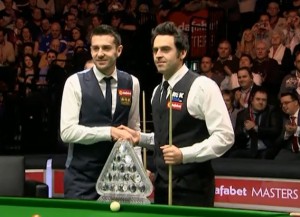 Conclusion
So what conclusions can we draw?
For me, the introduction of a rolling ranking system has been a positive change for snooker, which has seen an end to a system that previously saw players who were in some cases badly out of form, automatically seeded to appear at major tournaments for one, often two seasons depending on when their points were set to drop from their ranking.
I also do not think that it is a bad thing that the number one is able to change hands during the course of the season and I like the extra level of intrigue that the various cut-offs provide, while until this season there have not been all that many changes at the top of the list.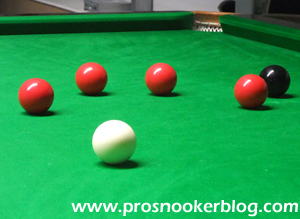 That said, it is clear to see that the move to a prize money based ranking list has already resulted in a far more fluid system than that seen last season and with the top four players in the game in close proximity in terms of prize money and ranking titles won over the last year or two, we are going to continue to see that top ranking change hands on a regular basis for the foreseeable future.
Personally, I did prefer the previous points based system to what we have now, but that is perhaps another debate, of which the increased amount of number ones is just one implication.
Ultimately, that we now see the number one ranking change hands more often does not bother me and for me at least, does not make it any less special for a player to be on top. Indeed, I would argue the exact opposite, as that player can now say that they are truly the number one player based on the past two years, rather than based upon results from almost three years previously and are yet to be removed from their total?
What do you think?