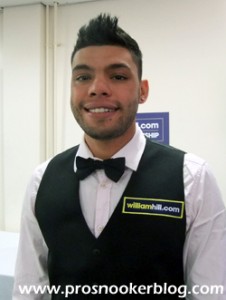 An interesting bit of news these evening as with the updated world rankings following the Welsh Open, World Snooker have also revealed the news that Australia's Vinnie Calabrese has given up his main tour card with around two and a months to run and has therefore been removed from the world ranking list.
Although no reason has been given, fellow professional Matt Selt was quick to reply to my tweet a short while ago and suggested that the reason for Vinnie's decision is in order that he can now enter this year's Oceania Championship as an amateur and if victorious, earn a fresh two-year tour card from the start of next season.
I had not thought of that at first glance, but on reflection that would appear to be the logical explanation for this move, with the prospects of him otherwise earning enough prize money before the end of the season to stay on tour looking remote.
@ProSnookerBlog @kellietext lol it's not a shame, he's only done it to go back and win the Oceania and get 2 more years

— Matthew Selt (@MattSelt) February 23, 2015
If, like me, you like to follow things like this closely, you may ask the question as to whether he would be allowed to re-qualify in this manner, despite having been a professional this season. There is a paragraph in the tour qualifying criteria which states:
"Players may not re-qualify onto the Tour via an amateur event which carries a guaranteed Tour place for the following season."
Some of you may however remember that a similar issue cropped up last year when Thailand's Thanwat Tirapongpaiboon dropped off the tour, only to immediately win the Asian U-21 Championship in the summer.
On that occasion, it was confirmed by World Snooker that the rule was only intended to apply to players who re-qualified whilst being professionals, therefore following Vinnie's resignation, he is free to compete in the Oceania Championship as an amateur and now regain a tour place that way.
It is perhaps a slightly unusual step for Vinnie to take, but in the circumstances a pragmatic one and one that gives him the best chance possible to earn an immediate return to the main tour.