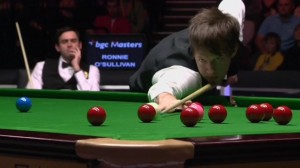 They did it in somewhat contrasting circumstances, but Judd Trump and Ronnie O'Sullivan both came through their semi-finals today in Llandudno to make it to the final of the new World Grand Prix.
First to book his place was world number seven Trump, who came back from 5-1 down to defeat Martin Gould 6-5 in a gripping match this afternoon.
In establishing his 5-1 lead, Martin continued to show the form that he displayed in defeating the likes of Mark Selby and Peter Ebdon previously, taking a 3-1 lead at the mid-session interval and moving just one away from what looked like being a deserved victory with further breaks of 53 and 111.
To his credit however, Judd, a player not necessarily renowned for such battling displays as he was to produce today, was able to dig in and get himself back into the match. The most intriguing frame of them all was perhaps the tenth, which Judd controlled and with a series of small breaks – his highest was just 22 – eventually took to draw level at 5-5.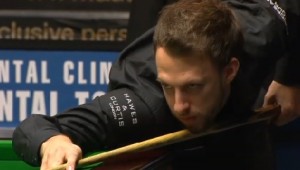 From that point, there only looked to be one winner and with breaks of 37 and 59, separated only by a telling snooker tight in behind the brown, Judd was able to complete a five frame winning streak and seal his place in the final.
It would be unfair to say that we have not seen this sort of performance from Judd before, as the last couple of frames in particular reminded me of the way that he won the deciding frame of his World Championship quarter-final with Shaun Murphy at the Crucible back in 2013. Nevertheless, it was extremely impressive and as he himself suggested after the match, reminiscent of the way that players such as Mark Selby and Neil Robertson have won so many matches in recent seasons.
For Martin of course it is a hugely disappointing result, that had shades of his loss to Robertson from 11-5 up at the 2010 World Championship, indeed it even had the same referee as I noticed during the match. It was not the collapse from him that it would perhaps seem on paper, but as he scored just 37 points just the final five frames, none in the last two, he was no match for Judd as the match reached its conclusion.
It was not to be so difficult for Ronnie O'Sullivan however, who showed significantly improved form compared to a day previously against Graeme Dott and whitewashed Stuart Bingham to set up a third final with Trump of this 2014/15 season.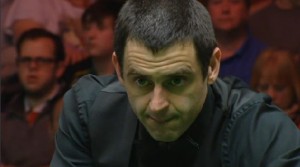 Even with breaks of 89, 88, 77 and 72, Ronnie in truth looked to be barely out of second gear, but for whatever reason Stuart was not able to show anything like the form that he needed to defeat the five time world champion and as a result slipped to his third defeat of the season against him.
It therefore sets up what for many will be the dream final and a chance for Judd to end his recent run of defeats to O'Sullivan, which has seen him lose their last four encounters since his last win against the Rocket at the 2012 Masters.
Having narrowly failed to complete impressive comebacks against O'Sullivan at the Champion of Champions and UK Championship events before Christmas, it will be important for Judd to get off to a strong start and if not gaining an early lead, not to fall several frames behind as he did on those occasions.
Though he is a former world finalist and UK Championship winner, I do feel that Trump at the moment is as strong a player as he has ever been and is knocking on the door of another major title, but he will have to be at his best if he is to win it tomorrow against O'Sullivan, who will of course begin as favourite.
Whatever happens, it promises to be a match not to be missed and gets underway tomorrow at 1pm, live on ITV4 and on Eurosport for those outside of the UK.