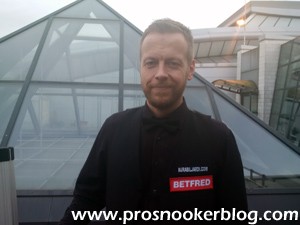 Following their victories yesterday at Ponds Forge in the final qualifying round of this year's World Championship, both Robin Hull and Stuart Carrington ensured that they will end the season ranked inside the top 64, crucially for both players as they will now retain the prize money won during the past two seasons and in Robin's case, avoid relegation from the tour itself.
You can read the mathematics behind it at my tour survival blog here, but after their wins and after they had done their regular press conferences to discuss their Crucible qualifications, I caught up with both players to discuss the ranking implications of their victories and what that meant to them.
First through was Robin and initially he said that he was not sure how it stood, so I soon brought him up to date and confirmed that he would move up to 61st position at present.
"That is massive that," said Hull. "I was going back to zero points, I have entered Q School, funnily enough I wasn't on the list but I have entered it but I've no clue what they would have done with my money (laughs), but no, its good news.
"I knew that it was sort of close that if I qualified…but I seriously didn't follow it at all. I can't see it helping preparation [to follow the rankings] and it's a nightmare to try and avoid the players who are thinking about it because it's a dangerous road to go down, it's going to take the enjoyment away. It might not make you play worse but it definitely won't be as enjoyable.
"But good stuff if that's the case."
I also mentioned to Robin about the amount of interest I have from Finland and the Finnish fans who message me on Twitter.
"I was speaking to one of my friends and he was saying that the national association have got a chat thing there looking at the possibilities, so yeah it's good!"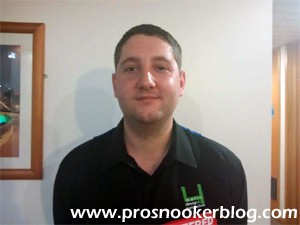 A few hours later Robin was joined in the last 64 by Stuart Carrington, who with his comeback victory against Li Hang climbed up above Joe Swail and Nigel Bond into 63rd place on the provisional ranking list, breaking into that all-important top 64 bracket.
"That's right, it was massive, there was more pressure on that than [getting to the Crucible]," said Stuart.
"I was expecting that if I won a couple of games that would definitely seal it, obviously that wasn't the case with a couple of players winning that pushed me back out.
"I tried not to think about it too much coming into this match because obviously you are so desperate to get to the Crucible as everyone else is, I didn't want that at the back of my mind because it would add more pressure. In a way it's more important getting in the top 64 for me. You keep your money and it gives you a much better chance next season. I just tried to put it all to the back of my mind, it's easier said than done!"
I also asked Stuart how much it had helped him last season to reach the final qualifying round of this event with victories over the likes of 2013 qualifier Jack Lisowski and being able to give Ryan Day a good game in the final round.
"Absolutely yeah, first to 10 you get a bit more time to settle down but it seems to suit my game. A number of times I have been behind in matches and come back. I'm a fighter so yeah, getting to the final round last season I knew something was in there, I knew I could do it if I put my mind to it and luckily this season I have."