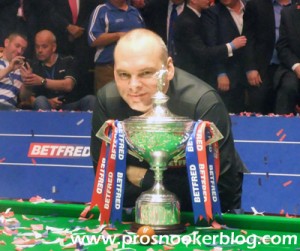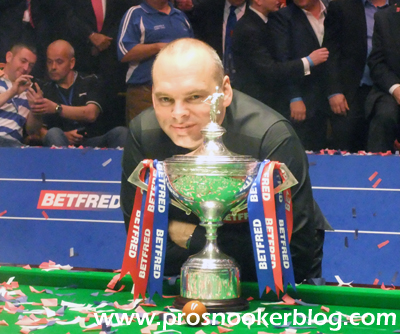 He came into the tournament as a 50/1 outsider with the bookmakers, but 38-year-old Stuart Bingham has tonight completed what must have at times felt like the impossible dream, by defeating Shaun Murphy 18-15 to win the 2015 World Championship here at the Crucible.
As well as a cheque for £300,000, Stuart becomes the 20th player to have won the World Championship here in Sheffield since 1977 and the oldest first-time champion since Walter Donaldson back in 1947.
Click here to view the updated world rankings at the end of the 2014/15 season
A match of some 33 frames, it was undoubtedly the hour-long 31st which would prove pivotal in Stuart Bingham's fairytale run to a maiden World Championship crown at the Crucible Theatre in Sheffield.
He began the day trailing by just one frame at 8-9, but dominated the opening session to take a 14-11 lead against 2005 winner Shaun Murphy into the all-important final session on Bank Holiday Monday. Having split the opening two frames of the evening however, it looked as though Murphy had landed a significant blow in the next with a fantastic clearance of 75 punishing a missed black from Bingham, which as well as keeping him in touch in terms of the scoreline, clearly had Stuart on the ropes mentally.
As Shaun added the next two frames either side of the interval, all of a sudden it was he who looked to be in the ascendency, before that all-important frame 31.
For a long time it looked as though it would be Murphy who would take a 16-15 lead, but after he almost missed a blue into the right-middle pocket, he did miss a yellow that he would have expected himself to pot and it would be that one shot that would turn the frame in Stuart Bingham's favour. Following a series of tough snookers (from which Shaun gave away a total of 38 points), as well as an unscheduled toilet break as the frame reached its climax, it was Bingham who was able to edge back in front.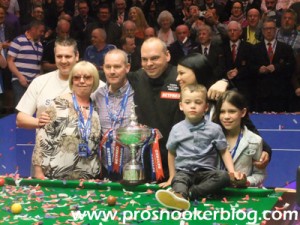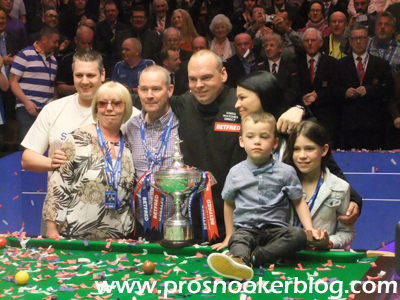 From there Shaun would only score another four points in the match as Stuart regained his composure and completed a remarkable victory in style with breaks of 55 and 88 to win the world title after 20 years of trying.
While those who do not follow snooker may not be too familiar, everybody within the games knows not only what a nice guy he is, but also what a terrific professional he has been for the past 20 years, who has barely missed an event that he has been eligible to play in.
Indeed it probably said it all that having been playing against the crowd this week when up against popular players such as Ronnie O'Sullivan and Judd Trump, by the time that Stuart got the final the Crucible crowd had very much taken him to their hearts and he received as much support as anyone in Sheffield.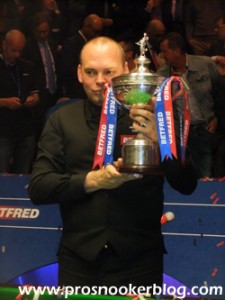 His story is truly inspirational as having initially burst on to the scene in 2000 with a famous debut victory against defending champion Stephen Hendry, he struggled to convert his undoubted talent into success, failing to even qualify for the event between 2003-2007.
A player who has always been keen to play in every event possible, be it Crucible or cubicle (who else remembers pictures of him on Global Snooker every few months as he swept up another pro-am in Prestatyn a decade ago), he has very much been one of the key beneficiaries of the return to the sport of Barry Hearn in 2010, winning two full ranking titles before this one, as well as a string of Asian Tour events.
Together with coach Steve Feeney, they have continued to put the hard work in and have earned the ultimate reward, a day that I dare say that even he had thought would never come. As he told me afterwards, it was perhaps the quarter-final victory against O'Sullivan that gave him the self-belief that he could go on to claim the title and a week on from that victory he now stands with the trophy.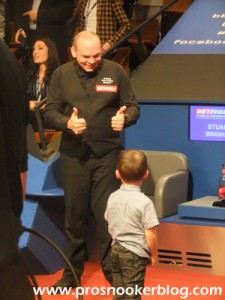 In terms of the ranking list, Stuart's victory now sees him climb up to a career-high position of number two in the rankings, behind only Mark Selby which means that Stuart will now be back in action sooner than he had thought at the revived World Cup next month.
As for Shaun, disappointment no doubt that he could not go on to achieve something that I know would have meant the world to him, but as ever he conducted himself with the class that you would expect from him. This was perhaps typified at the after-party when I understand that at one point he acted as photographer for a fan who wanted to have their photo taken with Stuart and the trophy.
More thoughts on the event as a whole will follow in a separate article but for now snooker belongs to Stuart Bingham – 2015 world champion.