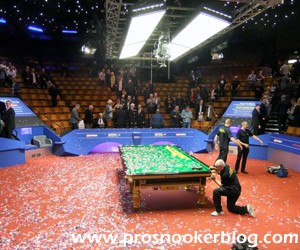 So after 17 days, not to mention the eight days of qualifying beforehand at Ponds Forge, the World Championship is over for yet another year with Stuart Bingham's unforgettable victory at the Crucible.
Click below for a round-up of my memories, thank yous and final thoughts on what has been Crucible 2015…
I often speak during the World Championship of the 'Crucible bubble' and so with the triumph of Stuart Bingham, followed by a typically late after-party, it is time again to step out and for life to return to normality before we begin counting down the days to do it all over again in Sheffield next year.
It is perhaps hard to explain to those who have not been here for so long (or even part of the journey), but when at the snooker, either as media, as a player or as a fan, it is impossible to avoid the famous bubble as everything else going on in the world seems to stop for 17 days.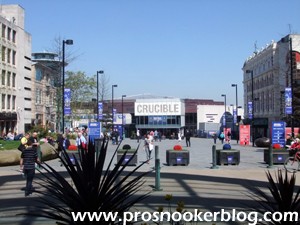 It doesn't of course and there are occasional reminders, if you are daring enough to stray too far from the Crucible and see strange people going about their everyday lives without a thought for the snooker. Back in the sanctuary of the bubble however, it is generally the case that most of us have no concept of what day it is, but will of course be able to offer expert analysis as to who has been able to best put balls into holes with a stick for the past two weeks.
This year, that man was of course Stuart Bingham and you can read more about his remarkable victory in my final report here, but what have we made of the tournament as a whole in 2015?
As regular readers might have gathered, for me the World Championship is without hesitation the highlight of my year and I cannot ever imagine being at the Crucible and not enjoying it. This year has been no exception.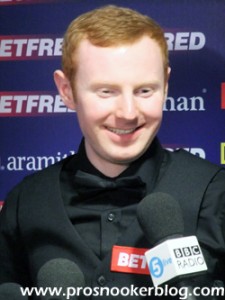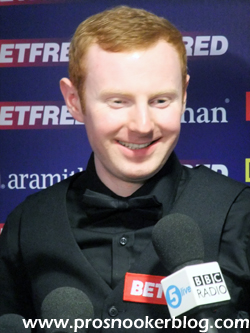 That said, I am of course not blind to the fact that on the table at least, from the drama of the first couple of days with those memorable wins for Mark Selby and Anthony McGill in the first round, to the conclusion of what was undeniably a disappointing second round, the tournament saw more than its fair share of one sided results.
From that point on however the tournament simply sprung into life, with Stuart Bingham knocking out Ronnie O'Sullivan and Judd Trump to reach an emotional first world final, while the quarter-final between Barry Hawkins and Neil Robertson was played at an incredible standard, setting a record for centuries made at the Crucible in a best of 25 frames match.
When asked, I often say that there are two types of World Championship. The first is one with plenty of first round upsets, but a less interesting second week as the surviving seeds make it to the final. The second sees a more straight-forward first week, followed by a blockbuster finale and this year's tournament fell very much under the latter category for me and provided perhaps the two best matches that I have ever seen here on the one-table set-up.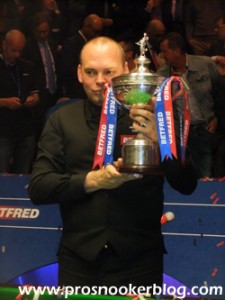 In particular, the final session of the match between Stuart Bingham and Judd Trump is one that will stay with me for a long time and though a shame for Trump, it was hard not to well up as an emotional Stuart spoke to the press afterwards, knowing the journey that he has undertaken over the last two decades.
Speaking of long journeys, the World Championship itself is one in itself, longer than the Olympics as is often trotted out each year and felt even longer this year when considering the qualifying rounds at Ponds Forge immediately beforehand, that effectively make this a month long event now. Indeed this weekend will be the first that I will have seen my own bed since 4-5 April and I will not be the only one who that applies to.
It was perhaps because of this that on day one at the Crucible, it really did feel like day nine for me and I was already feeling the pace, but the dramatic match between Mark Selby and Kurt Maflin (how long ago does that feel now?), soon sparked the tournament into life.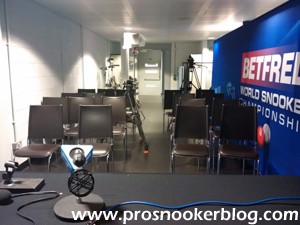 The on-table action aside, it has been another hugely memorable experience on a personal level, with a string of memories made (some of which I can share, but others definitely not!).
First and foremost my thanks go to World Snooker, in particular Ivan and Lewis in the media centre, who do such a good job at promoting the sport on all platforms and also to film wizard Matt Lightstone, not least for the many games of mini-pool during the last fortnight and also this terrific final montage of the tournament.
Similarly, all of the usual familiar faces in the media room who help to make the days as enjoyable as they are, such as Hector Nunns, Neil Goulding (and his number two Rob), George Riley, Jamie Broughton, Rob Walker, Sportsbeat's Luke Baker, Adrian Humphries, Dave Hendon, Monika Sulkowska and all of the others who I have blatantly forgotten.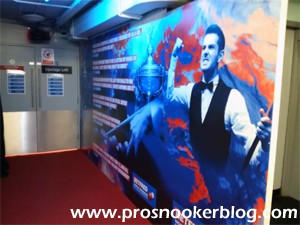 Thanks too to the bloggers who were present early in the tournament, including SB, Kathi, Dani, Roland and also Cuetracker Ron, who I met for the first time towards the end of the event during his flying visit to Sheffield.
Again, praise is also due to Betfred and in particular Mark Pearson for his work throughout the 17 days. While it probably sounds ridiculous to those not able to attend the event, they really do help to give the tournament something a little extra in a way that previous sponsors simply haven't.
And so to everyone else, from all of the referees, to the backstage staff, to the referees opening doors for 17 weeks and all of the players who I have been able to speak to at times during the event, as well as fans that I have been able to meet or catch up with…the list goes on. Everyone who has messaged me on Twitter too of course.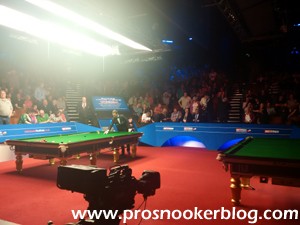 For now come those strange few days outside of the bubble, as those of us who have been there for the duration have to re-learn what day it is again and catch up with what has actually happened in the real world during the past two weeks.
But following a brief period of rest as some of the sport's best amateurs battle it out for main tour places at Q School, it all starts off again for the professionals soon enough and the clock is reset on the various battles for places at next season's tournaments.
The race to the Crucible 2016 starts here…